Teddy Dief

PAX Rumble IV
Teddy Hollywood made his debut in League of Heels at PAX RUMBLE IV. In a world where LOH rookies don't know how to get back into the ring, Teddy had by far the most dominant debut the league has ever seen. Despite entering at #3 and being abandoned by his colleague, Genevieve St-Onge less than a minute into the match, Teddy went on an epic run where he eliminated a record thirteen other superstars. Although he didn't quite topple Alex Navarro's record time, Teddy was in the ring with twenty-five of the twenty-nine other superstars in the Rumble, which is insane. He was eventually knocked out of the ring by LOH veteran Kate Welch.
Before the main event, Teddy approached the reigning champion, Samantha Kalman with a proposition. On behalf of Square Enix, Teddy and Gen offered to buy the ILC from her. Samantha agreed to do it only if she lost the title match, which she did. As Austin Walker celebrated his victory, Samantha signed Teddy's documents. What's next for Teddy Hollywood in LOH? The sky is the limit.
Upsetting The Bank.
The Rumble begins.
Pure domination.
The miracle run is over.
Buying the ILC.
PAXAMANIA III
Although the MVP of the fourth Rumble couldn't make it to PAXAMANIA III, he made sure to send a video message to the former record-holder for most eliminations in a Rumble, Alex Navarro. Teddy proclaimed that he would be coming to Seattle for the 5th Rumble with one goal, taking down Alex's endurance record as well. He promised to embarrass The Wolf and recommended that Navarro should just quit now. Retire. Maybe become a valet. This enraged the former champion and reignited his desire to continue wrestling after spending the last six months on hard times.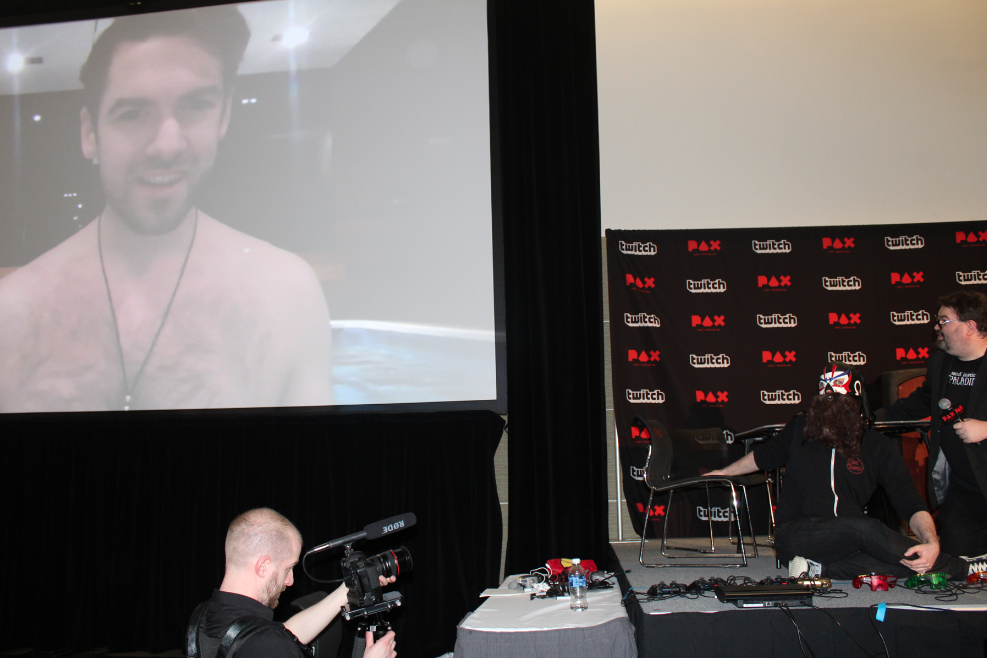 Aiming for The Wolf.
PAX RUMBLE IV
Teddy kept his promise by returning at the fifth RUMBLE and he brought his client, Samantha Kalman with him. He had her read a poem from his screen writer claiming that The Wolf was a washed-up has-been. Teddy, the current holder of the elimination record, entered the Rumble at #12 but was shockingly eliminated by a rookie, "Yung Dota" Casey Eagan in just over a minute. The Wolf entered immediately after at #15 laughing hysterically. Teddy blamed LOH management for not placing them closer together in the Rumble so that they could fight out their differences, to which Pat Baer reminded him, they were back-to-back entrants.
Instead of leaving ringside, Teddy removed his scarf and began to choke out The Wolf. Navarro collapsed to the mat and was quickly eliminated by Eagan as well. The Wolf awoke in a fit of rage and challenged Teddy to a Loser Leaves Town match at PAXAMANIA IV in Boston.
| | | | |
| --- | --- | --- | --- |
| | | | |
| Read your contracts. | Trouble is brewing. | Sabotage! | Challenge accepted. |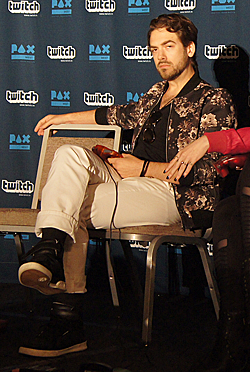 Hometown
Hollywood, CA
Seasonal Residence
Montréal, Québec
Alias
"Teddy Hollywood"
Motto
"Recently Indie, Currently Wealthy"
Twitter
@TeddyDief