SWERY

PAXAMANIA
Hidetaka Suehiro, better known as Swery, is a founder of Access Games and director of such titles as Deadly Premonition, D4, and Tomba 2. He made a shocking debut in LOH at the first PAXAMANIA as the 8th and final entrant in the 8-Person Gang Beasts Invitational. The surprise created a deafening roar among the LOH fans in attendance. Swery was easily the fan favorite in the match, but he was unsuccessful in his attempt to secure a spot in the next Rumble.
| | | |
| --- | --- | --- |
| | | |
| Surprise! It's SWERY! | SWERY takes the stage. | SWERY with Dirty Dan. |
PAX RUMBLE V
Two and a half years after his first appearance in LOH, Swery returned for the fifth annual RUMBLE. But, this time he didn't come alone. Swery, now known as The White Owl, had joined The Digivolution, a faction led by NJPW superstar, Kenny Omega. Swery flew into the Rumble at #17, but fell victim to the dastardly deeds of "Authentic New Yorker" Dan Ryckert. Because the AV Club forgot to turn on countdowns for ring entrances, Dan was able to eliminate several players before they were able to get to the ring and pick up a controller. Hopefully the White Owl will return again soon!
| | | | |
| --- | --- | --- | --- |
| | | | |
| The White Owl has arrived. | The Digivolution is here! | HOOT! | Gone too soon. |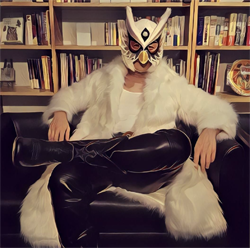 Hometown
Osaka, Japan
by way of Greenvale
Affiliation
THE DIGIVOLUTION
Motto
"HOOT!"
Loves
Coffee, The Ramones
Hates
Jet Lag
Twitter
@Swery65