Shawn Alexander Allen

PAX Prime Rumble 2014
Shawn Alexander Allen is the CEO, artist, and writer from NuChallenger. The former Rockstar made his LOH debut at the second PAX Rumble where he entered at #23 and eliminated his future teammate, Trin Garritano, before the lights went out in the Hyatt. That's when Dr. Tracksuit used the power of a golden urn to summon The Underdraker back to the Rumble. Just when it appeared they were going to take out D-Leazy with glass bottles, Drake and Tracksuit instead smashed them over the heads of Shawn and Samantha Kalman. The Underdraker stole Shawn's spot for the rest of the match.
| | |
| --- | --- |
| | |
| Glassed. | Revenge! |
PAXAMANIA
When the first PAXAMANIA, Shawn joined up with Samantha Kalman's Indie Love Coalition. In their Best of 3 Falls match of Saturday Night Slam Masters, Shawn defeated The Underdraker after being offered a spot in Run GFB. Shawn choked him out to score a win for his team, but he then abandoned ILC in favor of being truly independent. The other members of ILC were shocked, but Samantha was able to go on to defeat Dr. Tracksuit and win the Best of 3 series.
| | |
| --- | --- |
| | |
| Round 2! | Shawn is on his own! |
PAX Rumble 2015
Shawn came to Seattle for the 3rd Annual* Rumble with no alliances. And, after the delay due to the fire alarms, he almost didn't make back to the arena in time to claim his spot as the #5 entrant, which irritated Commissioner Greggy quite a bit. He immediately took down Tim Turi, but maybe he just wasn't completely ready yet because Danny O'Dwyer dispatched Shawn in under a minute. Going forward, will Shawn remain the lone wolf of LOH or will he seek a new alliance?
| | |
| --- | --- |
| | |
| Arriving late. | Eliminated by the D.O.D. |
PAXAMANIA III
After a year and half away from the league, Shawn indeed came back with his own new crew. When Pat Baer put out a call to arms for his NYC team to battle Eric Pope's Canadian team, Shawn was ready. Backing him up were Black Ness, Maximum Crash, Muazimus Prime, and Odell Jr.
Team NYC ended up winning the match, but they also eliminated all of Team Canada before Shawn was able to make his way into the match. He would've been their fourth and final entrant.
| | | |
| --- | --- | --- |
| | | |
| Introducing his crew. | Shawn didn't come alone. | Batting cleanup for Team NYC. |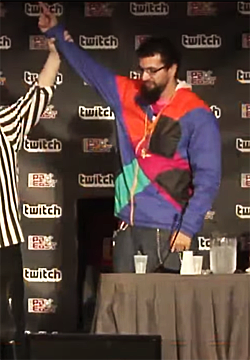 Hometown
Beatdown City, NY
Motto
"Mother fuckin' AAA assholes!"
Loves
Yokin' Fools Out
Hates
$7 Plastic Gold Chains
Twitter
@aNuChallenger