Sean Baptiste

PAX East Rumble 2014
Sean Baptiste works for Adult Swim Games and was previously a community manager at Harmonix. His first appearance in LOH was at the inaugural PAX Rumble where he unluckily drew #2 and was eliminated after two minutes by Phil Tibitoski, who dominated much of the early goings of the match.
| | |
| --- | --- |
| | |
| #1 & #2 Hug It Out | The inaugural Rumble begins! |
PAX Rumble 2015
After eighteen months away from the eSports Entertainment ring, Sean returned at the 3rd Annual* Rumble as the newest member of the Indie Love Coalition. Following a fire alarm and a false start of sorts, the Rumble began similarly to the inaugural one with both Sean and Nick Chester in the starting four spots. While other superstars came and went during the early goings of the match, Sean was locked in a brutal war with former Harmonix teammate, Jessa Brezinski. For four solid minutes, the two duked it out until Sean was finally able to knock her out of the ring. Less than a minute later, Sean was taken out by Patrick Klepek in the first ever double elimination, which also included Kate Welch.
| | |
| --- | --- |
| | |
| ILC's newest member. | The 3rd Rumble begins! |
PAXAMANIA II
Sean arrived in his hometown of Boston ready to help the Indie Love Coalition defend Samantha Kalman's championship against Amarisse Sullivan. But, Amarisse was unable to make it, which left the show without a title match. Samantha challenged her new best friend, Danielle Riendeau, which seemed strange for several reasons. It was then revealed that Alexa Ray Corriea had been excommunicated from the ILC just one night previous, which led to her filing a wrongful termination law suit against the champ. This meant the champ was suspended from competition indefinitely. The champ called on her former tag team partner, Austin Walker to take her place. Austin won the match, which created a major controversy over who the real champion was. This infuriated the champ and led to Danielle knocking her out. The Indie Love Coalition was in disarray and Sean stormed off in disgust.
| | |
| --- | --- |
| | |
| Everything's fine. | What are we doing? |
PAX RUMBLE V
After another eighteen months away from the ring, Sean returned for the fifth RUMBLE. This time, he had no affiliations and was adamant about "putting [his] skin in the game." Sean entered at #28, but was immediately dispatched by Authentic New Yorker Dan Ryckert who was tossing people out before they could even pick up a controller thanks to the lack of a countdown timer in the match. Hopefully it won't be another year and a half before we see Sean in a LOH ring.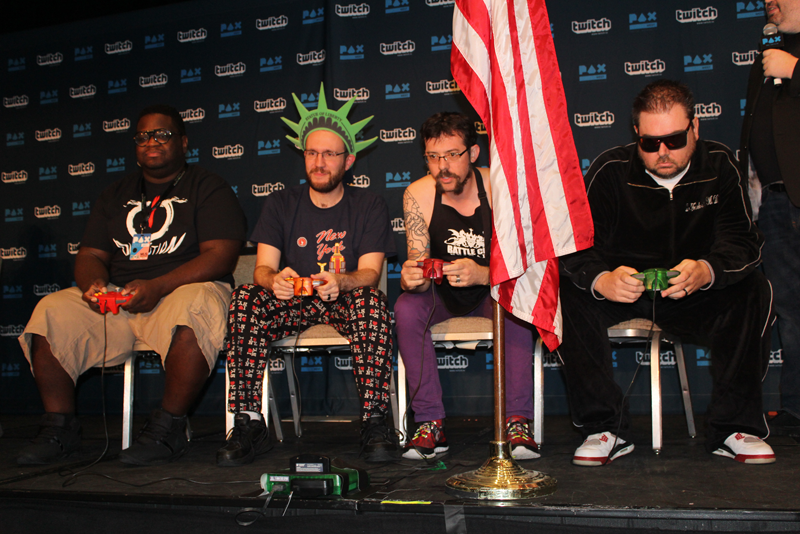 Skin in the game.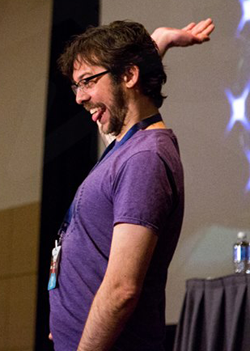 Hometown
Somerville, MA
Loves
Accelerating Indie Games
Hates
People Who Repeatedly Select
"Yellow Submarine"
Twitter
@SeanTheBaptiste