Alex Rubens

Alex Rubens is a member of Riot Games' media relations team. He was supposed to be in the second Rumble, which was in his hometown of Seattle. But, in his promo video, he was attacked by Dirty Dan Ryckert in a stairwell and was too injured to participate.
PAXAMANIA
Feeling robbed of his shot at glory, Alex traveled across the country to Boston for PAXAMANIA, where he competed in the 8-Person Gang Beasts invitational. Rubens was triumphant, last eliminating Mary Kish, and won entry into the third PAX Rumble as well as an autographed 8x10 of Razor Ramon, which he will cherish forever.
After winning the Invitational, Rubens unzipped his hoodie to reveal a Run GFB shirt. Eric Pope immediately assumed that Rubens was the fourth member of the faction, but the LOH rumor mill says differently. Some believe Rubens is a mark for D-Leazy and simply bought a Run GFB shirt off of Teespring.
| | | |
| --- | --- | --- |
| | | |
| Bonez debuts! | For a chance to be in the Rumble! | Victory! |
PAX Rumble 2015
At the 3rd Annual* Rumble, Rubens showed no signs of affiliation with Run GFB. He was more concerned about threats from Mary Kish, who was quite upset about being eliminated at PAXAMANIA. During his entrance, Rubens had friends set up a series of confetti cannons. A few minutes later, the theatre was forced to evacuate due to a fire alarm, which Aaron Trites immediately blamed on the confetti cannons. Was Alex trying to creatively avoid the wrath of "The Dog Walker" by postponing the event? There are several theories as to what caused the alarms that day in the Hyatt. When the Rumble finally started, "Bonez" entered at #15 as X-Pac, but almost immediately tossed out of the ring by Dan Teasdale. Kish entered at #17, but Rubens was already gone. She claims that Rubens is ducking her.
| | |
| --- | --- |
| | |
| Bonez arrives for the Rumble. | Eliminated by Teasdale. |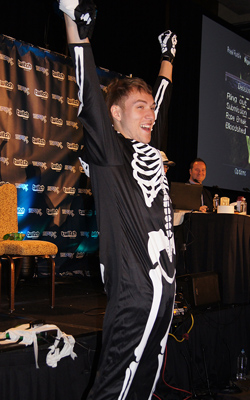 Hometown
Seattle, WA
Alias
"Bonez"
Loves
Speed Walking
Hates
Border Patrol Photographers
Motto
"I am the 1%!"
Twitter
@alexrubens