Pat Baer

PAX East Rumble 2014
Half superstar. Half referee. Half hype man. Pat Baer does it all. Hailing from the UCB Theater in New York City, Pat made his debut in LOH at the inaugural PAX Rumble where he entered at #29 as Paul Bearer (no relation). Normally, #29 would be a great spot, but Alex Navarro was steamrolling everyone by this point on his way to winning the whole thing. Pat was chucked over the top by Navarro in less than thirty seconds.
PAX Prime Rumble 2014
At the second PAX Rumble, Pat Baer entered at #18 and survived for nearly five minutes. In that time, he eliminated "Mr. Infinity" Johnny V, but eventually became the only person to be eliminated by Dirty Dan Ryckert. After being eliminated, Pat became a cheerleader for "The People's Champion" Samantha Kalman. Unfortunately for them both, Run GFB's 3-on-1 assault could not be stopped that easily.
| | | |
| --- | --- | --- |
| | | |
| This belt is not recognized by LOH. | In the 2nd Rumble! | Go Samantha! |
PAXAMANIA
By the time PAXAMANIA rolled around, Pat had opted to retire from in-ring competition in order to devote more time to being promoter Aaron Trites' right-hand man in booking LOH Wrestling as well as becoming the new senior referee. Pat masterfully navigated through the chaos of PAXAMANIA and officiated all five matches on the card.
PAX Rumble 2015
Pat once again officiated an entire event when it came to the 3rd Annual* Rumble. No ref bumps this time, but some are blaming his fog machine for the fire alarm that nearly canceled the whole event. Was it truly Pat's fault? Or was it Alex Rubens' confetti cannons that went off just moments before the alarm? Or was it possibly Dr. Tracksuit "cooking" backstage? We may never truly know. Will someone take the fall? That may have to be decided by Commissioner Greggy.
Southern Slam
At the inaugural Southern Slam, Pat debuted a new segment entitled The Baer Caev where he would interview the superstars before, during, and after the matches. Most notably, there were no fog machines.
| | |
| --- | --- |
| | |
| Khahil in victory. | Kate in defeat. |
PAXAMANIA II
At the inaugural The Baer Caev returned at PAXAMANIA II as Pat once again wore many hats. He hosted the pre-show for the live crowd, he interviewed superstars, he gave live updates from backstage, and he even served as a referee throughout the weekend at both The Mario Maker World Championships and an impromptu hot dog eating contest at the Giant Bomb panel. Pat Baer, and therefore The Baer Caev, is literally everywhere.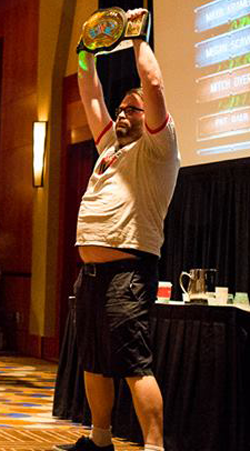 Hometown
Northford, CT
Motto
"Come to my other panel!"
Loves
Unsettling Internet Videos
Hates
Wristbands
Twitter
@patbaer