Mega Ran

PAX Rumble V
Some people will tell you that the nerdcore rap superstar known as Mega Ran came to Seattle to perform at the Sunday night. The truth is that he came to the Emerald City primarily to spark a digital revolution. The best professional wrestler on the planet, Kenny Omega, had put together an all-star quartet to win the 2017 RUMBLE and "change the world." Mega Ran was the enforcer of the group along with Matt Conn, The White Owl, and The Great Suda.
Mega Ran entered the RUMBLE at #4, which meant he was in the ring from the moment the bell rang. He dominated the first half of the RUMBLE by eliminating nine other superstars. About halfway through, he formed an alliance with Authentic New Yorker Dan Ryckert and they began picking off entrants one by one, often before the entrant was able to pick up a controller. Through this alliance, Mega Ran made it all the way to the final four superstars in the RUMBLE, but then Dan stabbed him in the back and tossed him out. As if that wasn't bad enough, Mega Ran was just 14 seconds away from eclipsing The Wolf's endurance record.
At the end of the RUMBLE, which THE DIGIVOLUTION did not win, Kenny commanded the entire crew to return to the lair and regroup. Will we see Mega Ran at LOH in 2018? We shall see.
| | | |
| --- | --- | --- |
| | | |
| The Enforcer! | The Rumble begins! | Rookie of the Year |
| | | |
| 2016's MVP vs 2017's MVP | Oh no! | So close to victory. |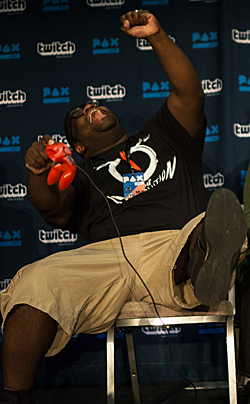 Hometown
Robot City
by way of Philadelphia
Affiliation
THE DIGIVOLUTION
Loves
Mega Busters
Buster Swords
4th of July Rap Battles
Twitter
@MegaRan