Felix Kramer

Felix Kramer is an independent developer and freelance PR consultant hailing from Hollywood North. They made their debut in LOH at the inaugural PAX Rumble and got a lucky draw at #28. Unluckily for Felix though, that meant they ran directly into the buzzsaw that Alex Navarro at the end of the match.
At the second PAX Rumble, Felix was lucky with their draw once again by getting the coveted #30 spot. On top of that, Felix landed The Undertaker in the match, but in a weird twist of irony they were eliminated rather swiftly by The Underdraker.
For the 3rd Annual* Rumble, Felix still drew a pretty good spot at #24. Despite wearing a Gang Beasts costume to the ring, Felix was eliminated by one of the game's developers, Jon Brown in under a minute.
| | | |
| --- | --- | --- |
| | | |
| Near the end of the first Rumble. | Battling Run GFB in Rumble #2. | New gear for Rumble #3. |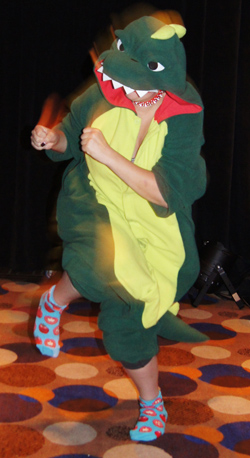 Hometown
Vancouver, BC
Alias
"The Gooch"
Motto
"It's a filthy, dirty game out there."
Hates
Being Distracted by Flying Chairs
Twitter
@legobutts