Mary Kish

PAXAMANIA
Mary Kish is a producer at Twitch who made her LOH debut at the first PAXAMANIA. Mary entered the ring as "The Dog Walker" because, as she explains it, she handles pieces of shit all day. Her first match was the 8-Person Gang Beasts Invitational, which offered a prize of being entered into the PAX Prime 2015 Rumble. Mary nearly won the whole thing, but was the last person eliminated (by Alex "Bonez" Rubens). Mary took the loss hard and devoted herself to ruining Alex Rubens' career in eSports Entertainment.
| | | |
| --- | --- | --- |
| | | |
| The Dog Walker debuts! | For a chance to be in the Rumble! | Victory for Rubens! |
PAX Rumble 2015
Despite losing the Gang Beasts Invitational, The Dog Walker found her way into the 3rd Annual* Rumble. Having trained non-stop for the last five months by "dealing with bitches all day," Mary was on a mission to destroy Rubens. She entered the match at #17, just two minutes after Rubens did, but Rubens had already been eliminated by Dan Teasdale who was dominating the middle portion of the match. So, The Dog Walker never got her hands on her nemesis; a fact she will not soon forget. In her post-match interview, Mary made sure everyone knew she lasted longer in the Rumble than "Bonez" did. Is it possible he's avoiding her at all costs?
| | | |
| --- | --- | --- |
| | | |
| The Dog Walker arrives! | In the heat of battle. | Mary has words for Rubens on her way out. |
The Great Australian Bash
After disappearing for over two years, League of Heels found The Dogwalker in the most unexpected place; Australia. Mary was a surprise entrant in the inaugural Great Australian Bash and even had a new pair of dogs, who were quite rambunctious. Whether or not she will return to the States for future LOH events is unclear.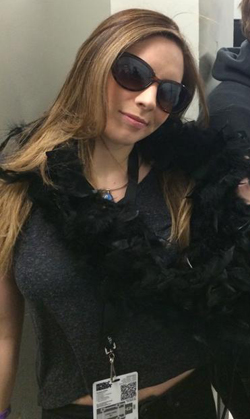 Hometown
Columbus, OH
Motto
"EARS!"
Loves
Samus Aran
Hates
Alex Rubens
Running Out of Pink Starbursts
Twitter
@MerryKish