Kate Welch

PAX Prime Rumble 2014
Kate Welch is a UI/UX designer for Amazon Game Studios. She made her debut in in LOH at the second Rumble and was on a mission to win it all in order to destroy Alex Navarro. Why does Kate hate Alex so much? IT DOESN'T MATTER WHY! Although she was unable to eliminate anyone from the Rumble, she lasted over nine minutes in the match, which was one of the best displays of endurance that year.
With her dreams of crushing Navarro and taking his title belt dashed, Kate attempted to cost Navarro his belt by distracting him during his title defense against Greg Miller. Alex was able to fight through it defeated Miller with ease.
| | |
| --- | --- |
| | |
| What's Chris' gimmick? | Make a hood ornament joke. I dare you. |
PAX Rumble 2015
Kate made her long-awaited return to LOH at the 3rd Annual* Rumble in Seattle. Her hatred for Alex Navarro was as intense as ever, and now, with the champ having joined Run GFB, she had more people on her side than ever before. Kate donned the rocketeer helmet once more and entered the ring at #7 as the powerhouse Faarooq. In less than a minute, she had already eliminated LOH rookie, Danny O'Dwyer, who immediately left the arena to catch a flight back to Ireland in frustration. Soon after, Kate found herself on the apron with Sean Baptiste when another rookie, Patrick Klepek, delivered a series of knife-edge chops that eliminated both Sean and Kate simultaneously; a first in PAX Rumble history. Although she was eliminated early, Kate stayed near ringside to lend her support to the eventual winner of the Rumble, Samantha Kalman.
| | |
| --- | --- |
| | |
| The rocketeer returns in 2015. | Kate eliminates Danny! |
| | |
| Double elimination by Patrick! | Celebrating with the new champ. |
Southern Slam 2016
Kate was the most seasoned veteran of LOH Wrestling to enter the #1 Contender's Tournament at Southern Slam, but she was upset in the very first round by Khahil White, which was the first actual pinfall of the event. Kate got her revenge later in show by helping choke out Khahil in the finals, which helped Amarisse Sullivan win the chance for a title shot at PAXAMANIA II.
| | |
| --- | --- |
| | |
| What does C-Up do? | No helmet? |
| | |
| Upset incoming. | Kate in the Baer Caev. |
PAX RUMBLE IV
Kate Welch, a veteran of Rumbles at this point, came to PAX RUMBLE IV with backup. Joining forces with Amarisse Sullivan, who she helped win the Southern Slam tournament, and LOH rookie, Calamity Jamie, they formed a stable known simply as The Duchesses of Doki Doki, Killers of Your Kokoros, Your Senpais the Shoujo Slayers. She entered late at #25, but spent over eight minutes in the ring, which was more than all but two other competitors in the match. She didn't win the Rumble, but she provided one of the most memorable moments in the history of League of Heels when she dodged twelve consecutive attacks from D-Leazy Esq. while perilously on the apron. It will go down in LOH history as "The Daigo Moment." Kate wasn't done there though. She also eliminated Teddy Dief who had eliminated a record thirteen people in the match after entering at #3. He was less than a minute from beating Alex Navarro's endurance record. With such a great showing in this Rumble, momentum is on Kate's side going into the next LOH event.
| | | |
| --- | --- | --- |
| | | |
| A new stable. | Peace out, Teddy. | The Daigo Moment. |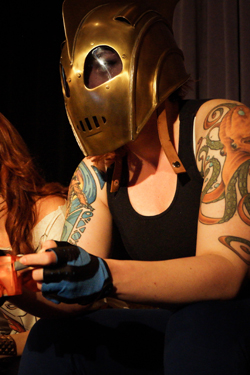 Hometown
Seattle, WA
Alias
"The Count of Monte Fisto"
"The Daigo of League of Heels"
Motto
"I wish I could grow a dick just so Alex Navarro could suck it."
Loves
Rotating Limousines
Hates
Alex Navarro
Twitter
@shegeekshow