Alex Zandra

PAX Rumble IV
Since PAXAMANIA II, Alex Zandra has been the official "Merch Boss" of League of Heels. She produced posters for that event, which are now a super rare collector's item due to the fact that Amarisse Sullivan is prominently featured on the poster (she had to cancel at the last minute). Then, at PAX RUMBLE IV, The Merch Boss hired the help of The Merchador to operate a merch table before, during(?), and after the Rumble. Together, they sold not just posters, but a collection of comics that filled the story gaps from PAXAMANIA II to PAX RUMBLE IV.
| | | |
| --- | --- | --- |
| | | |
| Setting up the gimmicks. | Even Canadian Dan Ryckert wants merch. | The Merchador grabs Fobwashed's keyboard to sell. |
PAXAMANIA III
Zandra and The Merchador returned with all new merch for PAXAMANIA III. Shockingly (even for Zandra herself), Eric Pope called upon Zandra to join his "Team Canada" stable to challenge "Team New York" in a 4-on-4 elimination gauntlet match. Unfortunately, Zandra was the first person eliminated when she was thrown out of the ring by Authentic New Yorker Dan Ryckert just 23 seconds into the match.
| | | |
| --- | --- | --- |
| | | |
| The new gimmick table. | Entering the ring.. | Eliminated! |
PAX RUMBLE V
Zandra was scheduled to be a participant in the fifth RUMBLE, but after witnessing an attempted murder in the introductions, she decided she'd be better off just selling merch outside the arena.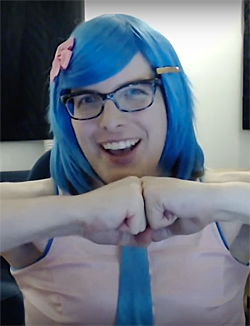 Hometown
Montréal, Québec
Motto
"Let's keep making wonderful things, and breaking wonderful people…together."
Twitter
@zandravandra