Dan Ryckert

PAX East Rumble 2014
On the surface, Dan Ryckert appears to be the most patriotic American who ever lived. He should be one of the most loved superstars in all of LOH. But, over the past couple years, he's built a reputation that's all hype and no results. He cut a promo video for the inaugural Rumble, but then didn't even show up.
PAX Prime Rumble 2014
In the events leading up to the second Rumble, Dan talked a big game and then directly attacked the champion, Alex Navarro, despite the two of them both being members of Team Giant Bomb. Following "The Superkick Heard 'Round the World," Ryckert continued the assault on the champ with a Singapore cane. This ruthless aggression earned him the nickname "Dirty Dan."
Despite all this pomp and circumstance, when it came to actually putting his money where his mouth was, Dirty Dan was tossed from the Rumble by Mega64's Eric Boudour in less than three minutes. Ryckert blamed this on the fact that he drew Mideon as his avatar. Fans reminded him that Alex Navarro won the first Rumble with Al Snow, but this only angered Ryckert more.
| | |
| --- | --- |
| | |
| Laid out by the champ before the 2nd Rumble. | 100% Hype Dan Ryckert |
PAXAMANIA
Prior to PAXAMANIA, Ryckert colluded with Greg Miller in a master plan to get the championship off of Navarro. Miller, who had stolen the belt after losing his title match at PAX Prime, finagled his way into the role of LOH Commissioner and blackmailed Navarro into signing a contract to defend his title in a No DQ match with Ryckert in order to get his belt back. The LOH Universe was outraged. Navarro was no saint, but Ryckert simply did not deserve this title shot. He had not paid his dues. He had not earned this.
To make matters worse, Ryckert had used the money he made from selling Air Force Gator books to hire Run GFB as mercenaries, which made this No DQ title match basically a 4-on-1 handicap match. If Ryckert had any fans left before this last trick, they were gone now. The depths of his greed were deplorable. As it turned out, Ryckert and Miller's plan was thwarted when it was revealed that Alex Navarro was in league with Run GFB all along. They shattered multiple bottles over Ryckert's head, slammed him through the Spanish announce table, and smashed a guitar over Miller's head. With Miller and Ryckert laid out, Navarro made the pin to retain his title.
| | | |
| --- | --- | --- |
| | | |
| Dirty Dan with SWERY. | Dirty Dan arrives. | Old Glory and Budweiser. |
| | | |
| Dirty Dan taunts a fan. | A New Challenger. | Still trash talkin'. |
| | | |
| RED MIST! | Bah gawd! | Dan is broken in half. |
PAX Rumble 2015
Prior to the 3rd Annual* Rumble, Dan cut a promo stating that he was going to enjoy starting over from the bottom of the ladder. The way he saw it, this would give him a chance to prove he deserved that title shot all along. With a new focus, Dan's first target was Tim Turi, his former tag team partner.
What Dan failed to notice is that his continuous antagonizing of WWE Superstar Xavier Woods had come to a boiling point. Dan was the #1 entrant in the Rumble, which was punishment from Commissioner Greggy for failing to defeat The Wolf at PAXAMANIA. The #2 entrant was none other than Tim Turi. When the bell rang, Xavier Woods appeared on the jumbotron taunting Ryckert and challenging him to a match in Mario Kart Double Dash at PAXAMANIA II. Amidst the confusion, Turi was able to toss Ryckert from the ring, thus ending Dan's quest for redemption before it even got started. To add insult to injury, Tim then dunked Dan's head into a toilet.
| | | |
| --- | --- | --- |
| | | |
| Trash talkin' with Tim. | Xavier Woods?! | Swirly for Dan. |
PAXAMANIA II
With Xavier Woods unable to make it to PAXAMANIA II due to obligations required by being a WWE World Tag Team Champion, Dirty Dan Ryckert turned his ire towards the one he blamed for his streak of bad luck in LOH, Commissioner Greg Miller. Dan challenged him to a "Loser Leaves Town" match but was continuously denied by the commish even after attacking him during a panel at PAX East, which led to Ryckert being ejected from the convention center. Ryckert continued to issue his challenge even during PAXAMANIA II itself, claiming to have duped all of his idiot fans the same way he would Miller when he finally accepts the match. Miller continued to ignore him until he was given permission to fight by his mentor, Sony's Shuhei Yoshida.
To protect himself from Dan's shenanigans, Miller brought in an army of monsters from Kaiju Big Battel. Somehow, Ryckert anticipated this and laid the ultimate trap for the commish. When Ryckert came to the ring, he was immediately attacked by the Kaiju, which left him nearly unconscious and allowed Miller to defeat him in a minute flat. Miller then tore off Ryckert's American flag mask only to discover it was actually Patrick Klepek the entire time. That's when Ryckert, disguised as the Kaiju known as Dr. Cube, attacked the commish with a vicious forearm to the back of his head, then stomped a mudhole in him. So, technically, Ryckert lost the match, but he got the revenge he wanted and that's the most important thing to him.
| | | |
| --- | --- | --- |
| | | |
| Ryckert getting ignored. | The fix is in. | Dan finally gets one over. |
PAX Rumble IV
Dirty Dan Ryckert was banned from competing at PAX RUMBLE IV due to his "crimes against humanity." Although, during the event, Jeff Green purchased the league and reinstated Dirty Dan Ryckert. Since he was not present in Seattle, he has yet to return.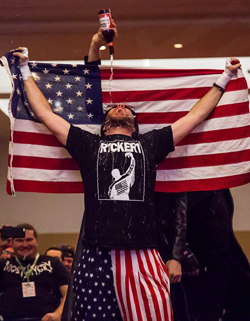 Hometown
Lenexa, KS
Trademark
American Flag Zubaz Pants
Fanny Pack
Signature
Superkick
Loves
Cutting Promos, Taco Bell
Hates
Losing, Mayonnaise
Motto
"It'll be fine."
Twitter
@DanRyckert