The Ghost of Cohen Edenfield

PAXAMANIA II
Cohen Edenfield is a writer who made his debut at PAXAMANIA II when he was inexplicably partnered with the former LOH Champion, "The Wolf" Alex Navarro in the Jeff Green Memorial Tag Team Tournament. Unfortunately for Cohen, he never got the chance to wrestle in the event. Prior to their first round match against Dr. Tracksuit & D-Leazy, Cohen was murdered by The Wolf via an N64 controller. Alex claimed he was attempting to ruin the tournament as revenge for Commissioner Greg Miller ignoring his requests for his contractually obligated title rematch.
Several minutes later, Cohen's ghost rose from beneath the ring and began haunting the former champion. The ghost chased The Wolf out of the arena, thus giving Tracksuit and D-Leazy the victory by forfeit. Later, when the entire roster was hypnotized by Ophidian, Cohen's ghost returned to attack The Wolf by stabbing him multiple times with a pocket knife.
| | |
| --- | --- |
| | |
| The debut of Cohen. | The Wolf was not happy about this team. |
| | |
| The death of Cohen. | Haunting The Wolf. |
PAX RUMBLE IV
Death does not stop Cohen Edenfield. For the five months since PAXAMANIA II, Cohen had been haunting Alex Navarro's every step. Most recently, he had been threatening to kill the former champion with a bike chain. Since he was around, he entered the Rumble itself and came in at #19 as Scotty 2 Hotty. He was quickly dispatched by Teddy Dief, as many others were, but winning the Rumble wasn't Cohen's primary concern anyway.
For the main event, a triple threat match for the LOH Championship, Cohen hovered over Alex throughout the match. Cohen was not the reason for Alex's demise this day though. Alex did himself in with an existential crisis that took his and Samantha Kalman's attention away from the match, which inadvertently allowed Austin Walker to claim victory. After the match, as the show was going off the air, Cohen attacked Alex with his switchblade again. The fate of Alex Navarro is currently unknown.
| | |
| --- | --- |
| | |
| So spooky. | Vanquished by Teddy. |
| | |
| --- | --- |
| | |
| Bike chain = revenge. | Is Alex dead?! |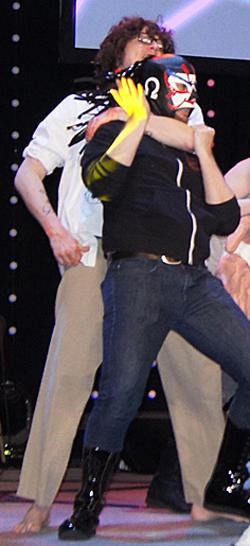 Hometown
The Congregation
Loves
Rasslin'
Bleedin'
Circumcision of Pigs
Hates
Shoes
Large Indoor Spaces
Folk Who've Not Been Raised Right
Twitter
@skullmandible