Canadian Dan Ryckert

PAX Rumble IV
Canadian Dan Ryckert first appeared at PAX RUMBLE IV when he was mistaken for Dirty Dan Ryckert, who had been banned from LOH after injuring the former commissioner, Greg Miller at PAXAMANIA II. Unlike Dirty Dan, Canadian Dan is a humble indie game developer from Manitoba City. He's an assistant manager at Maple Games and a huge fan of League of Heels wrestling. He flew to Seattle for PAX West to attend the Rumble in person and meet some of his heroes.
When Canadian Dan was spotted in the crowd and accused of being Dirty Dan, he explained he was not "the angry Taco Bell guy" and that he was just here to have a good time watching the Rumble. This brought the ire of Greg Miller, who was wheeled into the arena having been confined to a wheelchair since the vicious attack in Boston. Speaking through a voice generator and wireless keyboard, Miller called "bullshit" on this new, entirely different Dan Ryckert. But, once Greg found out that Canadian Dan was a Pateron subscriber of Kinda Funny, Greg bought in.
Right before #10 in the Rumble, it was announced that Jeff Green had bought the league and one of his first actions was reinstating Dirty Dan Ryckert as an active member of the roster. With Dirty Dan not in attendance, John Drake allowed Canadian Dan Ryckert to take his place. To further cement that he was not Dirty Dan, Canadian Dan went on a tear in the middle stages of the Rumble by eliminating each of the next four entrants single-handedly, and #16 KF.Fobwashed as well. He was eventually tossed by Teddy Dief, like so many other superstars were that day. But, in the record books, Canadian Dan has eliminated five times as many superstars from Rumbles than Dirty Dan. So, remember that.
| | | |
| --- | --- | --- |
| | | |
| Another Kinda Funny fan. | Livin' the dream! | Gracious loser. |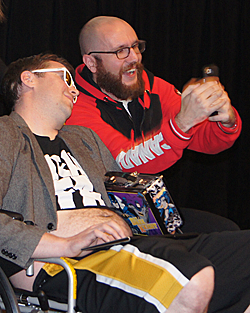 Hometown
Manitoba City, MB
Loves
Indie Games, Kinda Funny
Hates
Tacos
Twitter
@CanadianRyckert