Anthony Carboni

PAXAMANIA II
"The Gentleman" Anthony Carboni took a break from hosting every event on Earth in order to make his debut in LOH Wrestling at PAXAMANIA II in Boston. Together, he and John Drake formed an unholy alliance in an attempt to not only take over LOH Wrestling, but also the entirety of PAX itself. Carboni revealed that his family owns every convention center in North America and he is tired of filthy kids ruining his property every few months. He claims he was on the verge of shutting down PAX East entirely until he was approached by John Drake with a business proposal. In return for helping Drake seize control of League of Heels, Drake has promised to help restore order to PAX, creating a quiet, business-like atmosphere for the event. At PAXAMANIA II, they won the Jeff Green Memorial Tag Team Tournament by simply buying off their opponents. This victory surely helps their cause.
| | |
| --- | --- |
| | |
| The Gentleman debuts. | And has a message for the Commish. |
PAX RUMBLE V
In an inexplicable change of gimmicks, Anthony Carboni returned to LOH after an 18-month hiatus with a new persona known as The Fleshripper. Despite sporting spiked shoulder pads and spewing blood from his mouth, he's actually a really nice guy. While he promised to rip spines and eat faces, The Fleshripper only lasted about thirty seconds. When will Anthony show up next? And who will he show up as? Only time will tell.
| | |
| --- | --- |
| | |
| Hi guys! | No spines were ripped. |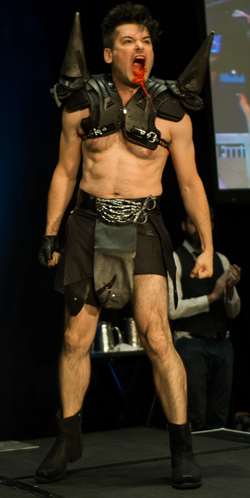 Hometown
Brooklyn! Brooklyn!
Loves
Hunting Big Game & Indigenous People
Violence Against Uncivilized
Rippin' Spines
Eatin' Faces
Hates
Giant Children
Dad Jokes
Twitter
@acarboni