Andrea Rene

Andrea Rene is a host on GameTrailers as well as GameStopTV. Many LOH fans will recognize her voice from various podcasts such as Weekend Confirmed. Andrea has entered two Rumbles thus far and was eliminated by Dr. Tracksuit both times! In her first appearance, she survived just over a minute. In her second appearance, Tracksuit took her out in just over thirty seconds! What does Dr. Tracksuit have against Andrea?
| | | |
| --- | --- | --- |
| | | |
| "I've got glass in my hair!" | Andrea and her nemesis. | Focused! |
PAX RUMBLE IV
Andrea Rene arrived for her third Rumble with the revelation that she had funded John Drake's purchase of the League of Heels during PAXAMANIA II. Now known as "The Bank," Andrea silently backed her fiancé as he addressed the LOH Universe.
Andrea entered the Rumble at #15 as Road Dogg, but ran directly into the buzzsaw that was Teddy Dief and was eliminated in just over a minute.
| | | |
| --- | --- | --- |
| | | |
| "The Bank" arrives. | Trouble's brewin' here. | Not eliminated by Tracksuit this time. |
PAXAMANIA III
The Bank returned with her husband Johnny Cashanova as the majority share holders of the league. Over the last six months, the league had fallen into a state of unrest as many of the superstars were upset with the leadership. As a result, The Bank found herself in a high stakes, tag team match for the main event of PAXAMANIA III against the LOH Champion, Austin Walker, and Danielle Riendeau. Johnny was eliminated first via a KO punch from Danielle that sent him crashing through a table. Shortly thereafter, The Bank was forced to tap out to Austin's devastating cobra clutch. As a result, Johnny and The Bank were forced to pay all the superstars (and The AV Club) a decent wage.
| | |
| --- | --- |
| | |
| Drake is out! | Pure disappointment. |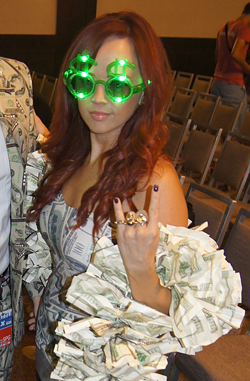 Hometown
San Francisco, CA
by way of Fargo, ND
Loves
Shenanigans
Hates
Having Glass in Her Hair
Motto
"Red Hair Don't Care."
Twitter
@AndreaRene