Dan Amrich

Dan Amrich is a legend in the game industry. Currently a community developer at Ubisoft, Mr. Bunny Ears is an accomplished author, musician, writer, and actor who claims he was reviewing games before most of the League of Heels competitors could even spell "kayfabe." And…he's probably right.
PAX RUMBLE IV
"Dynamic" Dan Amrich made his LOH debut at PAX RUMBLE IV and addressed the LOH Universe with a poem:
Here comes a new challenger, Dynamic Dan Amrich's the name,
I followed several tournaments, no two are the same.
I love all the shenanigans from Gerstmann and Jeff Green,
And all twelve times Greg Miller begged to turn on the fog machine.
The League of Heels is with us now somewhat suspiciously,
So now I have concerns about our league's integrity.
Some fight for glory, honor, truth, attention, or for fame,
But now it seems that selling out's the new name of the game.
With no one sure who is the champ the stakes could not be higher,
Perhaps the time for selling out is when you've found a buyer?
My lazy eye cannot see all but fans heed my advice,
Not everyone is who they seem and everybody has a price!

After reciting his poem, Dan flung several frisbees into the crowd. He entered the Rumble at #9 and was in the ring when the action was stopped to announce the purchase of the league by Jeff Green. But, unfortunately, Dan was quickly dispatched by Teddy Dief as many, many other superstars were that day. Maybe next time he'll bring the bunny ears and have better luck.
| | |
| --- | --- |
| | |
| Palette Swap Poetry Jam | During Jeff Green's announcement. |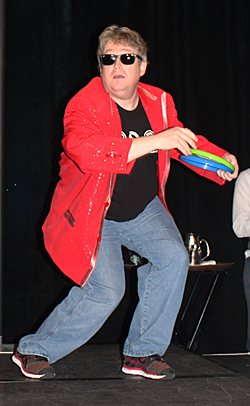 Hometown
San Francisco, CA
by way of New Jersey
Loves
Bunny Ears, Palette Swaps, Frisbees
Hates
Corruption & Corey Feldman
Alias
Dan Elektro
Twitter
@DanAmrich