Amarisse Sullivan

PAX East Rumble 2014
Amarisse Sullivan, on a normal day, is an employee of Oculus Story Studio. She made her debut in LOH at the first Rumble where she drew unlucky #13. Despite this, she lasted over five minutes in the match, which only seven other competitors could claim. Amarisse's run was ended by none other than Alex Navarro. As it were, she would be the first of Navarro's twelve victims in his run to victory.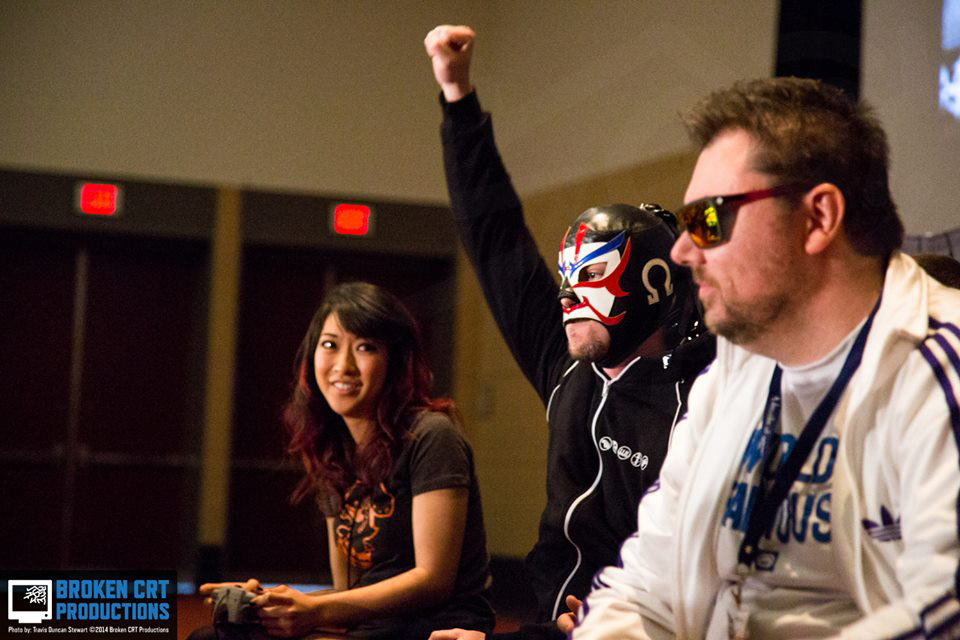 Cero miedo.
Southern Slam 2016
After a nearly two-year hiatus, Amarisse returned to eSports Entertainment at Southern Slam. Although, she claimed to have no idea what she was doing, she successfully defeated three separate opponents (albeit by countout, decision, and interference) to win a shot at the LOH Championship against Samantha Kalman at PAXAMANIA II.
She will eliminate you…happily.
Amarisse is not interest in your books.
Shit's gettin' real.
In the finals.
The new #1 contender.
PAXAMANIA II
For unknown and mysterious reasons, Amarisse was unable to attend PAXAMANIA II. This led to a major controversy over who the rightful champion should be.
PAX RUMBLE IV
After missing PAXAMANIA II and losing her #1 Contender status, Amarisse returned to LOH at PAX RUMBLE IV with backup. Along with Kate Welch and Calamity Jamie, Amarisse formed a new faction known simply as The Duchesses of Doki Doki, Killers of Your Kokoros, Your Senpais the Shouju Slayers.
Midway through the Rumble, it was announced that the newest owner of the league, Jeff Green, had died (he's totally fine). On his death bed, he gifted control of the league to Amarisse and Jacqui Collins for their birthday. Amarisse told Pat Baer that she "wanted a pony," took the cake, and refused any responsibility for the league.
Amarisse entered the Rumble at the magic number of #27 and joined her teammate Kate Welch in the late stages of the event. Despite their alliance, she was unable to eliminate anyone herself, but survived nearly four minutes before getting knocked out by Samit Sarkar.
| | | |
| --- | --- | --- |
| | | |
| The Duchesses | It's my birthday! | A new alliance. |

Hometown
Berkeley, CA
Loves
Bunnies
Motto
"I don't know what the fuck I'm doing!"
Twitter
@Amarisse