Alexa Ray Corriea

PAX Prime Rumble 2014
Alexa Ray Corriea is an editor at Gamespot.com and a founding member of the Indie Love Coalition. She made her debut in LOH at the second Rumble, and although she got a lucky draw by getting Shawn Michaels, she was eliminated in just fifteen seconds by Charlie Chu.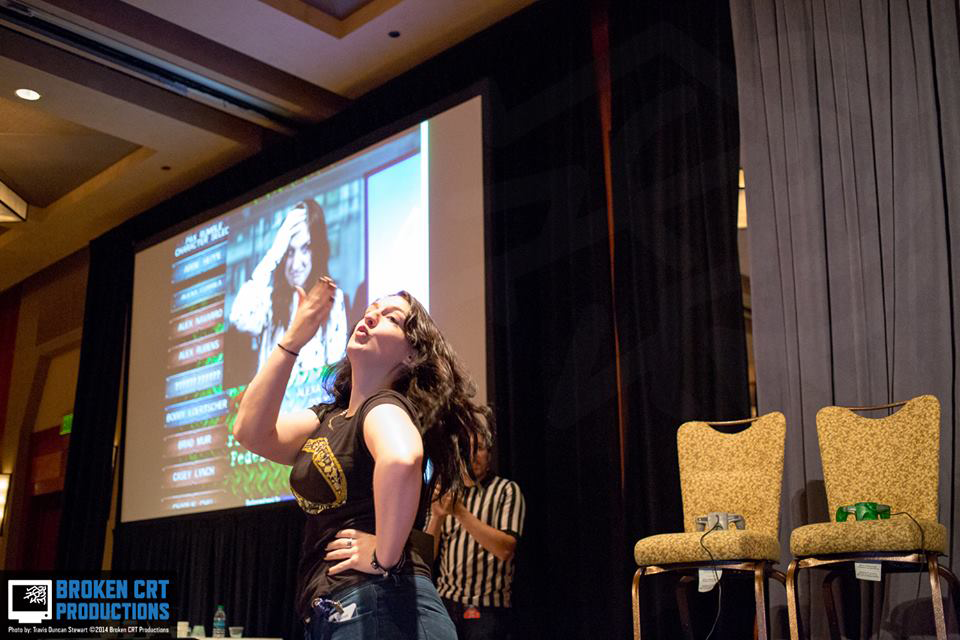 Alexa's LOH debut.
PAXAMANIA
Alexa returned to LOH at PAXAMANIA as a member of the Indie Love Coalition, which she founded with "The People's Champion" Samantha Kalman. Although Alexa lost her match against D-Leazy, ILC won the best of three series against Run GFB by a score of 2-1.
| | | |
| --- | --- | --- |
| | | |
| ILC is born! | The ILC arrives! | Alexa lost the battle, but won the war! |
PAX Rumble 2015
At the 3rd Annual* Rumble, Alexa entered the match at #29. But, before her number got called, she found herself having to block Run GFB from interfering and possibly costing Samantha the match. While Austin Walker subdued Dr. Tracksuit, Alexa steadfastly stood toe to toe with the deadman, The UnderDraker. She took a vicious shot to the head from Drake's urn and it was unclear if Alexa would be able to make it to the ring at #29. She was able to shake out the cobwebs and bravely entered the match, immediately aiding her ILC teammate, Samantha Kalman. After about three minutes, she was eliminated by her former Polygon co-worker, Samit Sarkar. Samantha went on to eliminate Samit to claim victory for the Indie Love Coalition.
| | | |
| --- | --- | --- |
| | | |
| Attacked by UnderDraker! | Working together. | ILC reigns supreme. |
PAXAMANIA II
Alexa did not appear at PAXAMANIA II, but did play an integral role in the event. According to Samantha Kalman, Alexa stormed out of a pre-PAXAMANIA party the night before after the champ mentioned that Alexa wasn't very good at wrestling games. Later in the show, it was revealed by D-Leazy and his legal advisor Ramón that Alexa had hired them in a wrongful termination suit against the leader of the ILC. Due to these "legal proceedings," the champ was suspended from in-ring competition and was forced to leave the arena. Austin Walker took her place mid-match to defend the title and won, thus creating a controversy over who the real champion is.
PAX Rumble IV
At Rumble, Alexa made her long-awaited return to the ring. Blaming Samantha Kalman for her serious head injury in Boston and thus ruining the Indie Love Coalition, Alexa entered the Rumble with a new attitude and new management. As a client of D-Leazy, Esq., Alexa ended up becoming a majority owner of the League of Heels (temporarily) through a law suit against the league. She immediately banned all Dota nerds and Canadians from participating in the league.
In the actual Rumble, Alexa entered at #5 as Kane, but due to the confusion of both Genevieve St-Onge and Danielle Riendeau both picking Mr. Ass to begin the Rumble, Alexa was actually controlling the green Mr. Ass that was originally Gen's, which she had abandoned to attend to Greg Miller. Danielle thought she was still Mr. Ass even though hers had been eliminated. So, since Danielle didn't leave the ring, she became Kane while Alexa was unknowingly stuck with Mr. Ass. It was pure chaos and confusion, but the point here is that Alexa was screwed out of her shot at revenge. That and the lights gave her a migraine.
| | | |
| --- | --- | --- |
| | | |
| Alexa's back, nerds! | The bright lights were a hinderance. | Taking ownership. |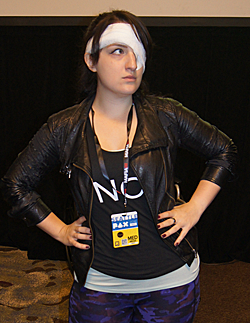 Hometown
San Francisco, CA
by way of Dol Amroth
Loves
Long Walks in the Shire
Hates
Dota
Canada
Twitter
@AlexaRayC