Southern Slam 2016
January 30, 2016 - San Antonio, Texas - Henry B. Gonzalez Convention Center - Falcon Theatre

Filmed and edited by Eric Kanius and Cheslea Smith.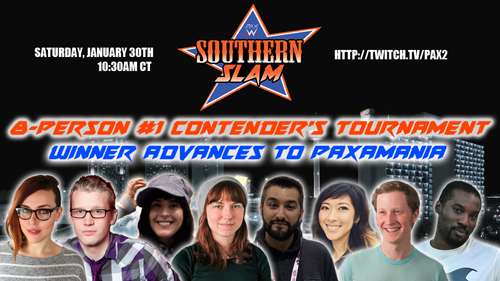 Aaron Trites welcomed everyone to Southern Slam and announced that Eric Pope was unable to make it to Texas (likely due to citizenship issues at the border). He then introduced a video provided by Commissioner Greggy who claimed he would never be caught dead in Texas because PAX South is not a real PAX anyway. After the video, D-Leazy took the stage to announce he found a legal loop hole in Mexican law that will allow him to participate at PAXAMANIA II. With Greg Miller not in attendance to throw him out, D-Leazy stayed on stage to do color commentary with Aaron.

The first match of the night saw Amarisse Sullivan as The Godfather defeat Trin Garritano via countout. The match had to be restarted after both were counted out. Someone should probably teach the Trin Train how to climb back into the ring before PAXAMANIA.

The second match pitted two LOH rookies when "Published Author" Chris Watters (as Bradshaw) defeat "The Conductor of Pain" Jenn Bane (as Dude Love) via…another countout. So, in a shocking turn of events, the entire tag team of Jenn & Trin were eliminated in the first round.

The third quarterfinal started prematurely as Mikey Neumann was in the bathroom. As Kris Straub began pummeling Mikey's character, Trin came to his aid and took over as Shawn Michaels until Mikey came back. At about the three minute mark, Kris attempted to choke out Mikey to keep him from playing the game. The match then ended in a time limit draw at five minutes. Aaron called on D-Leazy to declare a winner and he chose Dr. (or is it Mr. now?) Arabia.

The final quarterfinal saw LOH vets Kate Welch and Khahil White battle it out in a match that ended when Khahil actually scored the first pinfall of the night.

Aaron then took a break from the action to announce The Jeff Green Foundation to remember the LOH superstars of yesteryear. The first inductee is…Jeff Green. He's totally fine.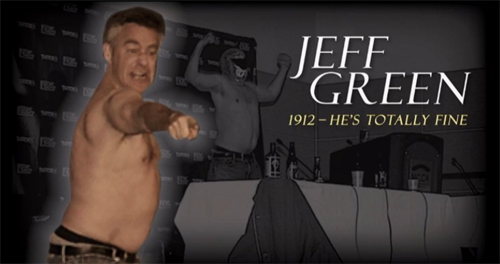 In the first semi-final, Amarisse scored some points with the crowd by kicking over the stack of books Chris Watters was trying to peddle to the crowd. Watters then attempted to cheat by bringing a steel chair into the ring, but the attack was blocked. Amarisse escaped a pin attempt right before the bell and the match ended in a time limit draw. D-Leazy left it up to the LOH Universe to decide the winner and they chose Amarisse.
The second semi-final, a series of masked superstars attempted to interfere and choke out Kris Straub but he kept coming back. After a third masked individual attacked him though, he could not come back in time to prevent Khahil from pinning him in the game.
Aaron then introduced a video sent in by the LOH Champion, "Um Jammer Sammy" Samantha Kalman. In it, she flaunted how amazing life as a champion has been. Samantha then revealed she had actually lost the championship belt after an all night bender at a hotel. In a shocking twist, the leader of the Indie Love Coalition took some vicious shots at the tournament's contenders by claiming that no one will ever match her own wrestling skill anyway. It appears that the champ will be sporting a new attitude when we get to Boston.
In the grand finale of the tournament, "The Office Mom" Amarisse Sullivan defeated Khahil White after a series of masked wrestlers stormed the stage and incapacitated Khahil. This allowed Amarisse to score a pinfall in a blisteringly quick one minute and forty five seconds.
So, the championship match for PAXAMANIA II has been set. It will be the #1 contender, Amarisse Sullivan, challenging the reigning champion, Samantha Kalman. On top of that, we also have a grudge match between Dirty Dan Ryckert and Xavier Woods. The Road to PAXAMANIA has begun…
Match
Stipulation
Winner
Decision
Time
Notes
Amarisse Sullivan
-vs-
Trin Garritano
Quarter Final #1
Amarisse Sullivan
Countout
3:24
The Godfather vs The Undertaker.

The first match ended in a Double Countout, so the match was restarted.
Jenn Bane
-vs-
Chris Watters
Quarter Final #2
Chris Watters
Countout
2:35
Dude Love vs Bradshaw.
Mikey Neumann
-vs-
Kris Straub
Quarter Final #3
Kris Straub
Draw
5:00
Scotty Too Hotty vs Shawn Michaels.

D-Leazy decided Kris was the winner.
Kate Welch
-vs-
Khahil White
Quarter Final #4
Khahil White
Pinfall
2:50
Chris Jericho vs Ken Shamrock.
Amarisse Sullivan
-vs-
Chris Watters
Semi Final #1
Amarisse Sullivan
Draw
5:00
The Godfather vs Bradshaw.

D-Leazy let the crowd decide the winner and they chose Amarisse.
Kris Straub
-vs-
Khahil White
Semi Final #2
Khahil White
Pinfall
-
Ken Shamrock vs Shawn Michaels.
Amarisse Sullivan
-vs-
Khahil White
Finals
to become
#1 Contender
Amarisse Sullivan
Pinfall
1:45
The Godfather vs Ken Shamrock.

Copyright © 1997 - 2016 League of Heels Inc.
All rights reserved.