PAX Rumble V
September 3, 2017 - Seattle, Washington - The Westin Seattle - Wyvern Theatre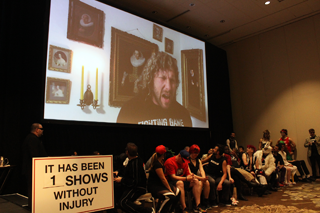 The fifth PAX RUMBLE began with the shocking debut of the greatest wrestler on le planet, Kenny Omega. He announced that he flew in a few friends to compete. Omega guaranteed that The Digivolution would win the Rumble and change the world. Prior to introductions, Pat Baer, from the The Baer Caev, made an official announcement regarding the throwing of hot dogs in Seattle. It was banned.
During the introductions, we learned several things. "The God of Pain" Abby Russell was accompanied by two "hunks" who she found making out behind a gas station. The hunks carry her to the ring, but not from it. Alex "The Wolf" Navarro declared he would win and be the first-ever two-time winner and two-time champion. Formerly known as "The Gentleman," a wealthy owner of convention centers, Anthony Carboni returned as "The Fleshripper," a friendly road warrior who spews blood. "Dynamic" Dan Amrich returned with another poem that strangely alluded to the potential death of superstars. "Authentic New Yorker" Dan Ryckert angered Pat Baer by invoking a shower of raw hot dogs from the audience during his entrance. Such a brazen act of dickishness was very reminiscent of the original Dan Ryckert. Dr. Tracksuit is still a doctor and is working on a mix tape with RiFF RAFF on his submarine. Since PAXAMANIA III, Kate Stark has changed her name to Justine Trudeau and has assumed the role of Canadian Prime Minister. Patrick Klepek made his return to the league with a new, despicable attitude and calling himself "The Woke Gamer."
At the end of the introductions, a mysterious video played that promised to "illuminate the darkness of the digital world." This was the debut of The Digivolution that Kenny Omega spoke of earlier. The members consisted of Matt Conn, The White Owl, The Great Suda, and "The Enforcer" Mega Ran. In the process, The Great Suda spewed a poison mist in the face of Biggie O'Smalls.
LOH Champion Austin Walker took the stage to speak about the past year in eSports entertainment. Instead, though, he got real and gave props to the people who put in hard work. He thanked Johnny Cashanova for running the league. He thanked Alex Navarro for challenging him to make him better. He thanked Eric Pope for flying all the way to Seattle just for this event. He thanked Pat Baer for holding it down since day one. And, lastly, he thanked Aaron Trites for inexplicably getting us all to a fifth Rumble when no one thought it was possible.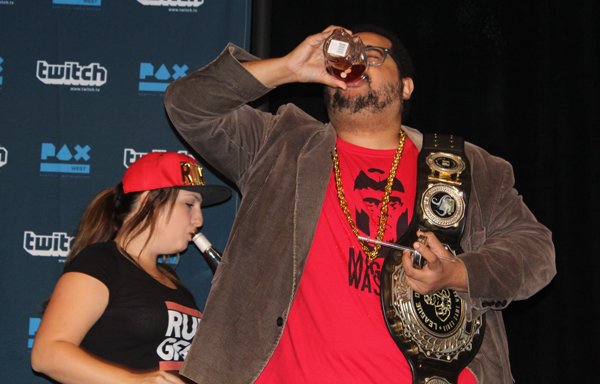 Johnny Cashanova responded to Austin Walker's "Nice Bomb" by proposing a toast to the champion. Still suffering from his ruptured achilles from PAXAMANIA III, Drake offered some of his prescription pills instead. Alexa Ray Corriea of RUN GFB conveniently offered up a bottle of rose wine. Thirdly, Matt Conn of The Digivolution, provided a glass…in the shape of a skull. Austin drank the whole glass and almost immediately dropped to one knee. Pat was very concerned while Drake slowly backed away from the stage. "The Boxing EMT" Danielle Riendeau frantically searched for an antidote, but there was no time and Rumble had to begin.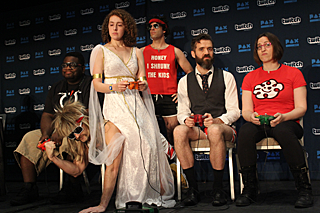 The first four entrants of the fifth Rumble were Samantha Kalman, Detective Benjamin Princess, "The God of Pain" Abby Russell, and Mega Ran. In less than fifteen seconds, Mega Ran took out the former LOH Champion; the first shocking moment of the Rumble itself. This was the first of nine eliminations from The Digivolution's Enforcer. Samantha tore off her Um Jammer Sammy shirt and declared herself free of Teddy Dief's control. She then promised that she would be back and stormed off backstage. The Mouse Maid entered at #5 and was almost taken out of competition by NJPW's star cat, Daryl, but Pat Baer was able to keep him out of the ring.
Eliminations were fast a furious due to the fact that organizers forgot to turn on the countdown timer that would've delayed entrances by ten seconds after an elimination. Mega Ran dominated the early stages of the event. After The Great Suda was eliminated, he spewed poison mist on Biggie O'Smalls again in frustration. 2016's powerhouse, Teddy Dief came in at #12 ready to wreak havoc but was tossed in just over one minute by Rumble rookie Casey "Yung Data" Eagan. Even though Alex Navarro came in at #13, the two rivals never had a chance to square off in the ring. The Wolf taunted Dief as they passed each other on the stairs of the stage.
The fourteenth entrant was a mystery wrestler wearing a shark mask and a Sentris shirt, which used to be what Samantha Kalman wore as ring gear. Immediately, everyone assumed Samantha was trying to get back into the Rumble after getting eliminated first. Then, Samantha appeared in a very poorly convincing pirate outfit. So, Samantha was going to attempt to fool everyone to re-enter the Rumble, but this mystery shark beat her to it? Everyone was confused, but the Rumble continued with the shark and without the former champion.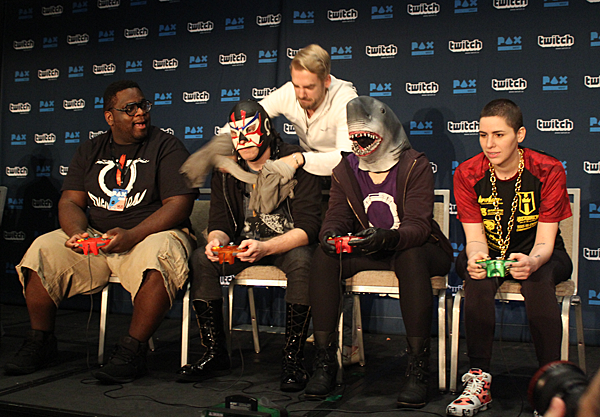 Soon after the events involving the shark, Dief returned to the ring and strangled Navarro with his scarf, thus giving Casey Eagan the opportunity to eliminate The Wolf from the match. When Navarro regained consciousness, he challenged Dief to a "Loser Leaves Town" match at PAXAMANIA IV in Boston. Dief accepted and guaranteed he would force the Wolf's retirement.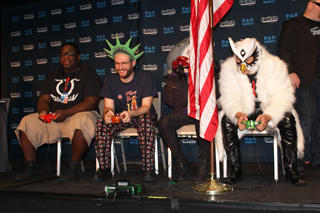 "Authentic New Yorker" Dan Ryckert entered at #16, planted an American flag directly in front of his competitors, and immediately went to work eliminating superstars. By taking advantage of the lack of a countdown, Dan was eliminating superstars before they could even make it to the stage. When the Mystery Shark was eliminated, it chased Samantha out of the arena. We may never know who that shark was. Patrick Klepek entered at #19 and refused to pick up his controller while stating "sometimes the status quo is frustrating, but that's what we have to live with."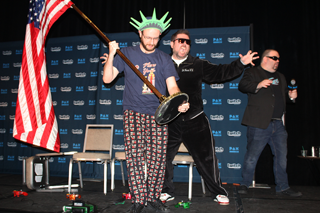 The last third of the Rumble went lightning fast thanks to collusion between Mega Ran and NY Dan Ryckert. The LOH fans were quite upset with the unsportsmanlike conduct, but there was no stopping Ryckert's lust for eliminations. For the third year in a row, Aaron Trites miscounted and thought that D-Leazy was entering at #30 as Dude Love, but he was actually #29. Samit Sarkar, having been the last person eliminated in two previous Rumbles, was the true #30 this year. Then, in a move that is making many question which Dan Ryckert actually came to Seattle, NY Dan Ryckert stabbed his partner in the back when he chucked Mega Ran out of the ring before it came down to the final two. Mega Ran was just 15 seconds from taking down Navarro's endurance record from the inaugural Rumble.
That left Dan, Tracksuit, and Samit as the final three superstars. Dan tossed Samit, which gave him the record of most eliminations in a Rumble at fourteen. Despite this, Dan failed to get his 15th elimination and Dr. Tracksuit became the fifth PAX RUMBLE winner. Dr. Tracksuit immediately announced that he was passing his right to the title match to "The Boss" of RUN GFB, D-Leazy. The champion, Austin Walker, returned to The Baer Caev, mistakenly thinking Pat was Pope. Aaron began to question whether Austin was physically capable of defending the championship.
While Danielle attended to the champ, Aaron shared an email he received from the Seattle Fire Department that stated they did not require an apology for the "fog mishap" of 2015 and that they hope the event runs smoothly this year. Also, check your smoke detectors. Aaron then announced that League of Heels would be going to PAX Australia for the first time.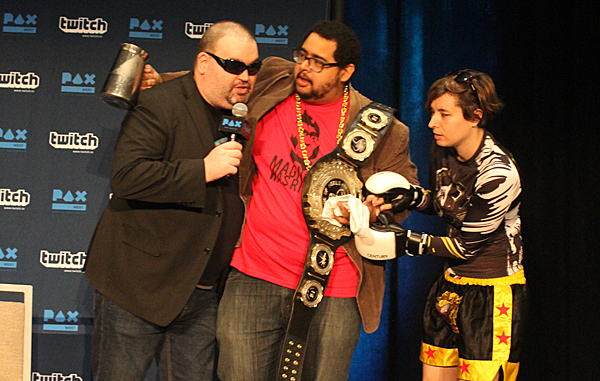 Pat Baer checked with Detective Benjamin Princess to see if he had discovered anything about the three suspects in the poisoning of Austin during the Rumble. Mr. Princess revealed that he is not truly a Detective; that is just his first name. Johnny Cashanova shouted from off-stage that it wasn't him, which seemed to be enough proof for Aaron. Alexa argued that she drank the wine too, which everyone saw, so it couldn't be her. Matt Conn, who provided the glass skull, stated that Austin came to GaymerX last year and he wouldn't poison a paying customer. So, all three suspects were found innocent.
With the mystery unsolved, Aaron declared that the title match must go on. Dr. Tracksuit, as the actual winner of the Rumble, was presented with a chicken dinner, which he immediately "feasted" on. Right as the title match was about to begin, Austin collapsed out of his chair and was declared dead by two medical professionals, Danielle and Dr. Tracksuit. With the champion declared dead, Aaron decided to strip Austin of the title and presented it to D-Leazy, much to Pope's dismay.
It was then that the true treachery was revealed. Aaron Trites, the founder of eSports entertainment in the modern era, stood in the center of the stage and admitted, "It was me, Austin. It was me all along." Aaron turned his back to the crowd and revealed a RUN GFB logo on the back of his suit jacket. With his dying breath, Austin whispered, "I have many aliases, but the most important one was being your friend." Austin collapsed one last time, face first on the stage. Aaron then showed a video from PAXAMANIA III that showed that it was Aaron who provided the "white powder" to Alexa when she blew the powder into Tracksuit's face, thus beginning the new era of RUN GFB. The plan took six months to come to fruition, but it worked to perfection. RUN GFB celebrated over Austin's corpse while Pope and Danielle looked on in horror.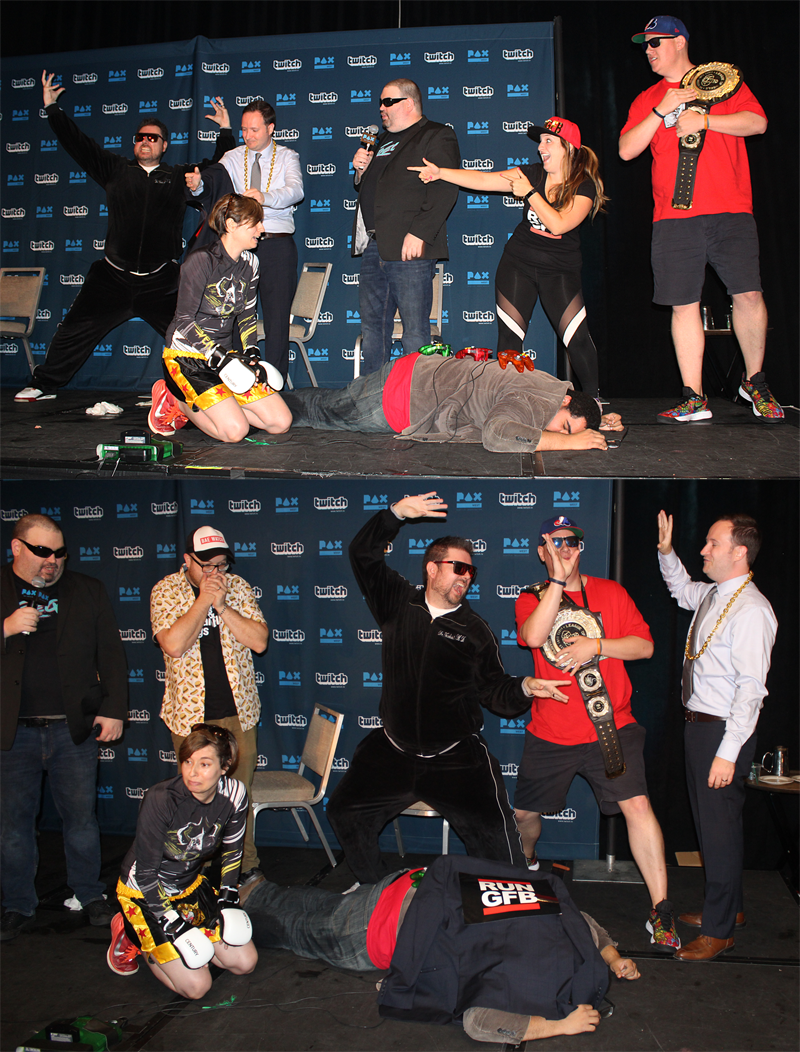 As a shocked LOH Universe began to shuffle out of the arena, Kenny Omega appeared on the tron again and he was furious at how The Digivolution was screwed out of winning the Rumble. He demanded that the rest of the team return to the lair, which sent Conn, Owl, Suda, and Mega Ran running out of the back entrance. Omega declared that this was far from over!
RUN GFB has all the power now. With no former champion, who will be the first challenger for D-Leazy's championship? Luckily, we don't have to wait seven months for PAXAMANIA IV to get (some) answers. LOH will be coming to PAX Australia and PAX Unplugged in 2017.
#
In
Name
Wrestler
Exit
Out
Eliminated By
Total
1
0:00
Samantha Kalman
Steve Austin
1
0:14
Mega Ran
0:14
2
0:00
Detective Benjamin Princess
Shane McMahon
2
1:26
The Mouse Maid
1:26
3
0:00
"The God of Pain" Abby Russell
Chris Jericho
3
1:43
Mega Ran
1:43
4
0:00
Mega Ran
Mankind
27
14:53
NY Dan Ryckert
14:53
5
0:24
The Mouse Maid
Big Show
7
3:54
Mega Ran
3:30
6
1:41
The Great Suda
Ken Shamrock
6
3:11
Mega Ran
1:30
7
1:53
"The Fleshripper" Anthony Carboni
Prince Albert
4
2:26
Mega Ran
0:33
8
2:36
"Dr. Pain Love" Danielle Riendeau
Jeff Hardy
5
3:05
The Mouse Maid
0:29
9
3:18
"Biggie O'Smalls" Ben Pack
Thrasher
8
4:37
Mega Ran
1:19
10
3:30
Cody Mahoney
Grandmaster Sexay
10
6:27
Mega Ran
2:57
11
4:05
"Yung Dota" Casey Eagan
Chyna
13
9:31
NY Dan Ryckert
5:26
12
4:47
Teddy Dief
Michael Hayes
9
6:04
Casey Eagan
1:17
13
6:14
"The Wolf" Alex Navarro
Jerry Lawler
11
7:19
Casey Eagan
1:05
14
6:37
The Mystery Shark
The Rock
14
9:36
Mega Ran
2:59
15
7:29
Jolie Menzel
X-Pac
12
8:23
Casey Eagan
0:54
16
8:33
"Authentic New Yorker" Dan Ryckert
The Godfather
29
15:43
Dr. Tracksuit
7:10
17
9:40
"The White Owl" SWERY
Christian
15
10:02
NY Dan Ryckert
0:22
18
9:50
Matt Conn
Big Bossman
17
10:51
NY Dan Ryckert
1:01
19
10:13
"The Woke Gamer" Patrick Klepek
The Blue Meanie
16
10:23
NY Dan Ryckert
0:10
20
10:34
"Big Poppa Punk" Andi Claire
Gerald Brisco
18
11:14
NY Dan Ryckert
0:40
21
11:01
Justine Colla
Shawn Michaels
22
12:42
Mega Ran
1:41
22
11:25
Natasha Putin
Kane
19
11:40
NY Dan Ryckert
0:15
23
11:50
Kate "Justine Trudeau" Stark
Mr. McMahon
20
11:59
NY Dan Ryckert
0:09
24
12:09
"Mr. Kayfabe" Kris Straub
Bradshaw
21
12:17
NY Dan Ryckert
0:08
25
12:27
Alexa Ray Corriea
D'Lo Brown
23
12:56
NY Dan Ryckert
0:29
26
12:51
"Dynamic" Dan Amrich
Chaz
24
13:42
NY Dan Ryckert
0:51
27
13:07
Dr. Tracksuit
Scotty 2 Hotty
WINNER
2:36
28
13:53
Sean Baptiste
Pat Patterson
25
14:02
NY Dan Ryckert
0:09
29
14:13
D-Leazy
Dude Love
26
14:29
NY Dan Ryckert
0:16
30
14:39
Samit Sarkar
Mr. Ass
28
15:27
NY Dan Ryckert
0:48
Match
Stipulation
Winner
Decision
Time
Notes
"Professa Killah"
Austin Walker
-vs-
D-Leazy
LOH World
Championship
D-Leazy
Death
-
Although Dr. Tracksuit won the Rumble, he gave up his right to compete for the title by offering it to "The Boss" of RUN GFB. It was around this time that the champion succumbed to the poison that he ingested earlier in the show. With the champion now dead, Aaron Trites revealed himself to be the newest member of RUN GFB and presented D-Leazy with the championship.

Copyright © 1997 - 2017 League of Heels Inc.
All rights reserved.