PAX Rumble IV
September 4, 2016 - Seattle, Washington - The Westin Seattle - Wyvern Theatre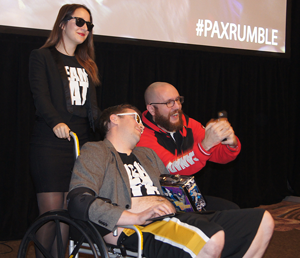 PAX RUMBLE IV opened by revealing who the new, mysterious owner of League of Heels was. Unsurprisingly, it was "Johnny Cashanova" himself, John Drake. He and his new fiancee, Andrea "The Bank" Rene (Chief Financial/Fashion Officer), henceforth known as The Shillionaires, announced they were ushering in a new era of eSports Entertainment. Drake then revealed the brand new LOH championship belt, which he refused to hand over to Samantha Kalman due to the fact that she lost the last one. He then invited "Dirty" Dan Ryckert to the stage to reinforce the fact that he was still banned after injuring Greg Miller at PAXAMANIA II.
A man resembling Dirty Dan Ryckert entered The Baer Caev wearing a Canadian maple leaf hoodie. He claimed to also be named Dan Ryckert, but an assistant manager at Maple Games in Manitoba City. This Ryckert claimed to be excited to meet all his Internet heroes and just wanted to have a good time. At this point, a computerized voice came over the loud speakers claiming this whole thing was "bullshit." It turned out to be an incapacitated Greg Miller being wheeled into the arena by Genevieve St-Onge of Square Enix. Miller accused Canadian Dan Ryckert of breaking his ribs, but this Ryckert stuck to the story that he was not in fact the "angry Taco Bell guy" that everyone thinks he is. He stated he was a fan of Miller and a Patreon subscriber for Kinda Funny. This led to Miller completely changing his views on the matter and welcoming Canadian Dan Ryckert to the league.
During the introductions, we learned several things. Alexa Ray Corriea had returned after missing PAXAMANIA II due to mysterious circumstances. Amarisse Sullivan, Kate Welch, and newcomer Calamity Jamie had formed a new stable known as The Duchesses of Doki Doki, Killers of Your Kokoros, Your Senpais the Shouju Slayers. Eric Baudour has traded in his "too sweet" lifestyle in favor of being a juggalo. After two and half years away, Jared Rea returned as a believer in the hug life. And Kris Straub wants to be referred to as Mr. Kayfabe.
Before the Rumble could begin, the reigning champion took the stage and demanded the belt be given to her. This led to Alexa Ray and Danielle Riendeau confronting her on stage for ruining the Indie Love Coalition.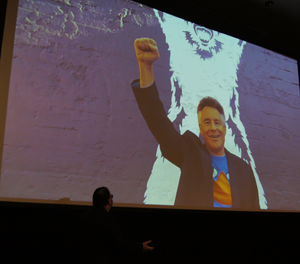 The Rumble itself began with utter confusion. For some reason, both Genevieve and Danielle selected "Mr. Ass" Billy Gunn as their avatars. Seconds into the match, Greg Miller requested Genevieve assist him at ringside, which led to her leaving her controller unattended. Before she left, she (green Billy Gunn) actually knocked Danielle's (yellow) Billy Gunn off the apron, thus eliminating Danielle. Everyone assumed the one knocked out was Genevieve though, which led to Alexa Ray coming at #5 as Kane. Danielle, believing herself to still be playing as (green) Billy Gunn, was actually playing as Kane illegally. Alexa Ray, still recovering that mysterious head injury from Boston was having trouble with the bright lights of the arena. When (yellow) Billy Gunn was eliminated, Alexa left due to a migraine and Danielle inexplicably continued on as Kane much to the confusion of Pat Baer. Eventually, Teddy Dief eliminated Kane and resolved the issue entirely.
As entrant #10 was being announced, the game was paused to announce that the league had been purchased again. A video appeared on the jumbotron where LOH Hall of Famer Jeff Green announced he was now the majority owner of League of Heels thanks to years of accepting bribes for reviewing games. He then announced that the promotion would now be known as Jeff Green's League of People in the Gaming Industry Who Wrestle at PAX. Lastly, he reinstated "Dirty" Dan Ryckert into the League. Since that Dan Ryckert was not in attendance, Canadian Dan Ryckert was allowed to enter at #10. In a twist of fate, this Dan drew Mideon just like the other Dan in his only official Rumble appearance.
When KF.Fobwashed entered at #16, he attempted to use his own equipment to play as is customary in eSports. Pat Baer disallowed this, which forced KF.Fobwashed to leave his keyboard and mouse on the apron. When he entered the ring, The Merchador from the LOH Gimmick Table stole the keyboard to sell it as a souvenir to a member of the LOH Universe! When "The Bitch Witch" entered at #17, she cast a charm spell on KF.Fobwashed in an attempt to create a team to dominate the Rumble. Unfortunately for her, they were both quickly dispatched by Ryckert and Teddy.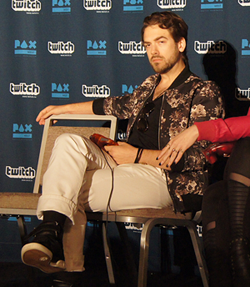 After Jacqui Collins entered at #18, the match was stopped again. John Drake announced that Jeff Green had died (he's totally fine) and, in his will, had left the league in the hands of Amarisse and Jacqui as a birthday gift. Amarisse disappointingly told Pat Baer she wanted a pony instead. Having no interest in running the league, they both declined and Amarisse ran off with the cake. Drake announced as a minority shareholder and chairman of the board, he was at least temporarily in control until he could find a new investor to pay back "The Bank."
By eliminating #23, Det. Benjamin Princess, Teddy Dief toppled Alex Navarro's record of twelve eliminations in a Rumble. Not only that, but that 13th elimination put him at the top of the all-time list as well. At #25, in the midst of a Rumble dominated by Teddy Dief, the game was paused again. D-Leazy, Esq. announced that he had acquired the league through legal means for his client Alexa Ray Corriea. She vowed to create a safe space free from Dota nerds, Canadians, and fake Canadians with no fog machines. Drake then announced that the previous majority owners would be required to pay the $2 million settlement and legal fees. Thanks, Amarisse and Jacqui.
Back into the action, Teddymania was still runnin' wild. That is until Kate Welch entered as Mark Henry and delivered a clothesline so vicious that it sent Teddy toppling backwards over the top rope in one motion. Teddy was just 49 seconds away from eclipsing Alex Navarro's endurance record. After taking out the dominant superstar, Kate found herself targeted by D-Leazy. A gut punch sent her to the apron where, in what would become known as "The Daigo Moment of LOH," she perilously dodged twelve consecutive attacks from the former leader of RUN GFB. After successfully re-entering the ring, she then eliminated D-Leazy herself.
LOH Universe favorite Austin Walker entered at #28 (announced as #29), which was followed suspiciously by John Drake at #29 (announced as #30). A couple minutes into his run, Austin's controller began malfunctioning, which led to many in the audience to begin suspecting collusion. For the second year in a row, the actual 30th entrant had been forgotten. So, Khahil White made a surprise return when the final buzzer sounded.
Also for the second year in a row, Samit Sarkar made a late run in the Rumble by viciously eliminating both Kate and Austin. Drake then quickly dispatched Samit to win, and making Samit the runner-up two years in a row.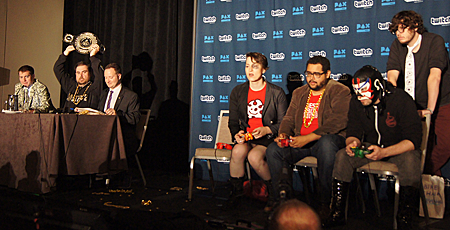 Feeling slighted by losing due to technical difficulties, and after weeks of taunting Kalman over Twitter that he had the original LOH belt in his possession, Austin Walker revealed that he had melted the old belt down and crafted dozens of gold chains with it. He then threw the gold into the crowd to "redistribute the belt" as he had promised on a recent episode of The Baer Caev. Drake, inspired by this display of wealth and the fact that he was the chairman of LOH, decided to give up his spot in the main event to Austin.
Alex Navarro entered the ring, followed closely by Cohen's ghost, vowed to overcome the haunting of Cohen and win back his belt. Teddy Dief and Genevieve St-Onge then entered the ring to offer to buy the Indie Love Coalition from Samantha Kalman on behalf of Square Enix. Kalman stated she would sign the deal if she lost the match.
Cohen distracted Alex throughout the match. Once he threatened to choke The Wolf with a bike chain! Around the two-and-a-half minute mark, Alex paused the game and went into an existential crisis questioning what they were all even doing there. He reminded Samantha of the inaugural Rumble when they teamed up to be the last two in the ring. Alex seemed as though he was attempting to rekindle their alliance to take out Austin, but while they were making up and becoming friends again, Austin had unpaused the game and was still wrestling. After delivering two Stone Cold Stunners to The Rock (Samantha), Austin was declared the LOH Champion and ran off with the belt before Samantha or Alex even knew what had happened.
John Drake then announced that a new investor had come forth with enough money from his Patreon subscribers to buy a majority stake in the league and reclaim his role as the Commissioner of LOH. "TURN ON THE FOG MACHINE!" could be heard from The Westin to the Space Needle as Greg Miller rose out of his wheelchair to go on a tirade that turned his face beet red. As the show went off the air, eagle-eyed fans noticed Cohen could be seen once again stabbing Navarro in the shadows.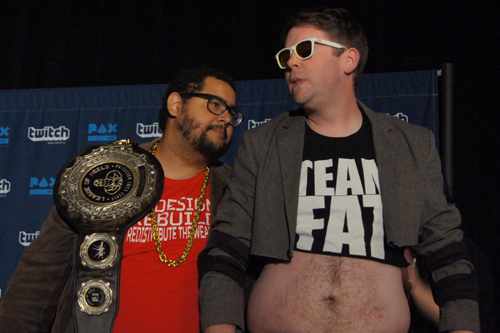 Copyright © 1997 - 2016 League of Heels Inc.
All rights reserved.