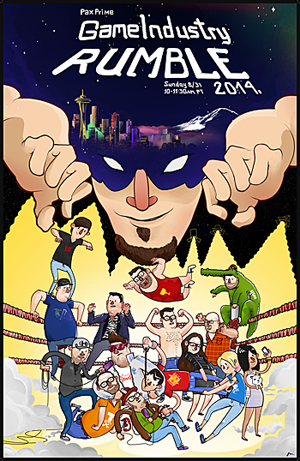 At a Giant Bomb event (unsanctioned by LOH) the night before, Dan Ryckert made it known to everyone that he was going to win the Royal Rumble. Despite being part of Team Giant Bomb, "Dirty" Dan turned on the LOH Champion, Alex Navarro and delivered "The Superkick Heard 'Round the World." If that wasn't bad enough, Ryckert then continued the assault with a Singapore cane. With the champion down and out, Samantha Kalman took this opportunity to attack Navarro as well, for she felt betrayed at the end of the inaugural Rumble. Also, inexplicably, Johnny V joined the beatdown after feigning concern for the champ.
The event Sunday morning began with more dominance by Dan Ryckert. He presented a video where WWE superstars including Goldust, Eva Marie, Bo Dallas, The Miz, Nikki Bella, Jimmy Hart, Daniel Bryan, and Stardust all vowed support for Ryckert. Aaron Trites and Eric Pope welcome the raucous crowd and wondered if the champion would even be able to make it to the show after what happened last night.
Trites & Pope then presented a video showing Alex Rubens being attacked in a stairwell by Dan Ryckert, which explained why Rubens was unable to attend the Rumble. World Champion, Alex Navarro, eventually appeared using a crutch and wrapped in many bandages. When Ryckert approached him to taunt the champ again, Navarro revealed he was perfectly fine and attacked Dirty Dan while promising to crush whoever won the Rumble.
The Rumble itself was going swimmingly until the twenty-three minute mark. At this point, the match was paused as the lights went out in the arena and Dr. Tracksuit, who had already been eliminated, appeared with an urn. The power of the urn gave rise to The Underdraker, an alter ego of John Drake, who had also been eliminated earlier in the match. It appeared as though he would attack the vile D-Leazy, but The Underdraker instead smashed glass bottles upon the heads of Samantha Kalman and Shawn Allen. The Underdraker and Dr. Tracksuit then revealed they were members of Run GFB, D-Leazy's nefarious faction.
Run GFB dominated the rest of the match, but it was Greg Miller who put D-Leazy in a sleeper hold, stealing his spot in the middle of the match, and went on to win the entire thing. Miller was no match for Navarro though. Miller was a bloody mess within a minute, and despite distractions from Samantha Kalman and Kate Welch, Navarro pinned Miller in less than three minutes. While Navarro was carried away by his enemies, Miller escaped out of the arena with the belt, which left questions unanswered until PAXAMANIA.