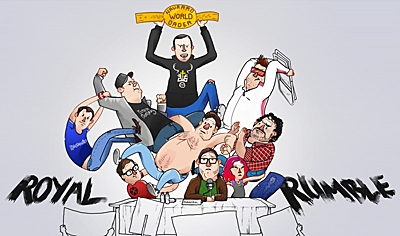 The inaugural PAX Royal Rumble was mired in controversy, but through the shattered glass and unbroken tables emerged Alex Navarro in truly dominating fashion. "The Wolf" eliminated an unprecedented twelve other competitors, including all six of the final entrants, on his way to becoming champion of the video game wrestling world. He even eliminated two people via TKO.
John Carnage will forever hold the dubious distinction of being the first person ever eliminated from a PAX Royal Rumble after lasting only seven seconds.
Around twelve minutes into the match, after being eliminated by his arch nemesis Dan Teasdale, John Drake re-entered the ring by smashing glass bottles over the heads of both Teasdale and D-Leazy. Drake took over control of Ken Shamrock while Dr. Tracksuit wandered back into the ring to take Leazy's spot as Scotty 2 Hotty. Tim Schafer was later eliminated by Drake, which led to Schafer and Steph Bayer delivering a brutal beatdown to Drake at the announce table. Schafer even stole Drake's shoes.
At 19:34, after Drake had been eliminated (again), the game was paused by Alex Navarro so he could remove his Rock Band Road Crew jacket revealing that he was actually still on Team Giant Bomb despite what had occurred the night before.
At 27:50, after tossing Casey Lynch, Navarro paused the game again to reveal that he and Samantha Kalman had colluded to ensure that they would be the final two combatants.