LEAZYMANIA IV
April 8, 2018 - Boston, Massachusetts - Boston Convention & Exhibition Center - Albatross Theatre


200+ Photos from the Front Row!!
Exclusive Photos from Backstage!!
The show started with Pat Baer and Eric Pope welcoming everyone to the new LOH Arena. They then provided a recap of the murderous events of PAX RUMBLE V before being interrupted by RUN GFB including "alleged" murderer, Aaron Trites. Before Pat could get any questions answered, RUN GFB introduced their own personal backstage interviewer, Casey Malone. The champ, D-Leazy claimed that he "shits excellence" and that RUN GFB will not quit until they're all in the Hall of Fame. Dr. Tracksuit, sporting a new NASA t-shirt, declared that he had spent the last six months in space and learned that the Earth is a flat trapezoid. As if that revelation wasn't big enough, Dr. Tracksuit then revealed that he is NOT actually a doctor and that he's been a drug dealer this entire time! As the producer of RUN GFB, Rich Gallup made sure everyone knew that their "access to capital" will take them to the top of the trapezoid. As part of the coronation of the new champ, Aaron gave D-Leazy the night off, which meant no title defense at PAXAMANIA IV. D-Leazy claimed that this was the fourth best day in his life behind the best Taco Bell he ever had, the day he was "deflowered," and when he was audited by the IRS.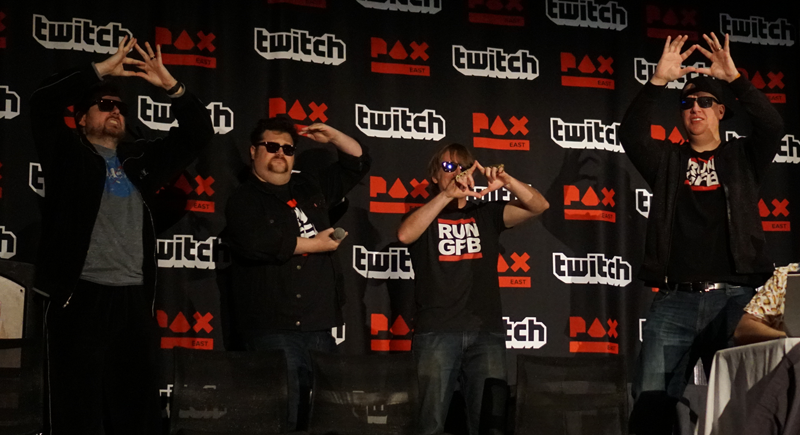 "The Wolf" Alex Navarro entered The Baer Caev wanting to know where the hell Teddy Dief was. Alex claimed Teddy had been dodging him for a year and their Loser Leaves Town match was agreed upon and should be happening today. Pope then received a video call from Teddy. He admitted that he was not in Boston but he had worked out a deal with RUN GFB to take care of Navarro for him. Alex argued that Dief's no-show meant that Dief had lost and therefore was banned from LOH. Aaron decided that since The Wolf was a RUN GFB traitor, he must face three rookies in a Fatal 4-Way match where the Loser Leaves Town stipulation was still in place.
Answering the challenge for this WCW/nWo Revenge Fatal 4-Way were Marissa Zaenger, Matt Pascual, and Dave Oshry. Things were looking good for The Wolf early on as he was able to force Oshry to submit to a dragon sleeper. He then went to work on Marissa's neck. After a vicious German suplex, Matt dove in and stole the pinfall, thus eliminating Marissa. At this point, D-Leazy entered the ring and decked The Wolf with the LOH Championship belt. To save time, Aaron declared Matt the winner by default. When asked about his victory by Pat, Matt stated he followed the time-honored British tradition of "just existing until no one else was willing to fight."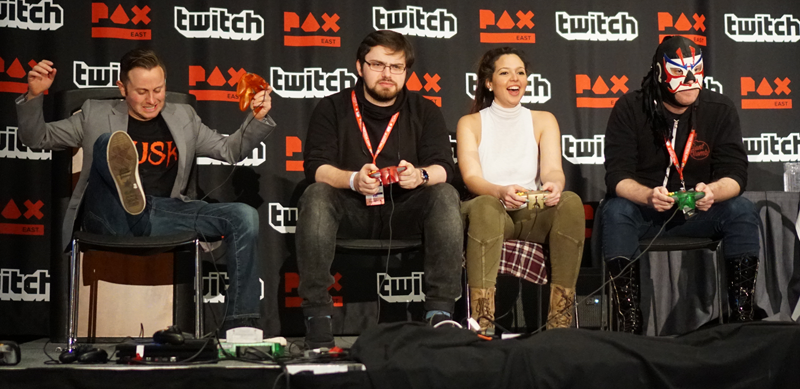 Upon realizing the repercussions for losing, The Wolf removed his mask for the first time in his career. As RUN GFB stood with their backs to him, Alex declared that he accepted the terms of the match, but that these RUN GFB "dipshits" better watch their backs because he's coming for them sooner or later. Alex then stormed out of the arena to a huge "THANK YOU, ALEX" ovation from the LOH universe.
Pat took this opportunity to hype the LOH Merch Table in Band Land. The Merch Boss then appeared on the big screen. She decided not to come to PAX for fear of contracting whatever it is that seems to be turning everyone evil. She revealed that she had lost track of The Merchador since Seattle, but he's probably fine...and definitely not evil now. In lieu of coming to Boston, Zandra had sent a package of older merch to Pat to sell at the new, official merch table. She asked that he send any of the proceeds to her Mouse Maid after the weekend.
Next, RUN GFB decided to host a tag team tournament in WWF WrestleMania 2000 on N64, which they deemed The Alexa Ray Corriea Tribute Tag Team Tournament. But, don't fret. Despite whatever D-Leazy tells you, Alexa is fine. She just decided not to come to Boston this year. In the first match, Aaron decided to punish Pat & Pope by pitting them against the maniacal Dr. Tracksuit & Rich Gallup. Being unprepared to compete, Pat & Pope were mostly dominated by the RUN GFB duo and Pat was forced to submit by Dr. Tracksuit in just under five minutes. When asked to give their thoughts on the match in "The Malone Zone," Pope stated his only way to describe the match was "contractually obligated."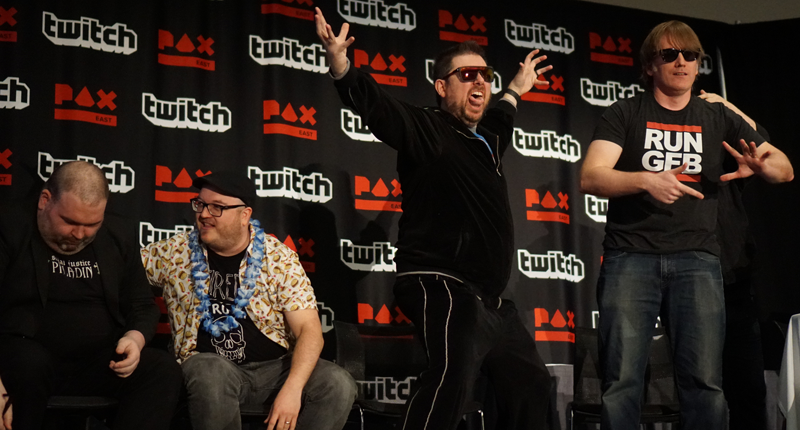 For the second semi-final, Aaron called for a newly formed tag team from What's Good Games, "The Bank" Andrea Rene & Brittcoin. Andrea announced that she was no longer funding Johnny Cashanova's endeavors since he no longer has any power in League of Heels. In an attempt to bring about a return to positivity, Andrea has teamed up with Brittcoin, who is not allowed to speak on her own behalf apparently. Facing them would be the mysterious White Owl and LOH's favorite last-minute replacement, Samit Sarkar. Since no RUN GFB members were involved in the match, Aaron decided to take a break from commentating, which led to Johnny Cashanova taking his place amidst a chorus of "HOW'S YOUR ANKLE" chants from the LOH universe.
Johnny was not amused by the chants and he was still upset with the mistreatment he received from "The Boxing EMT" Danielle Riendeau after his injury last year. As the match carried on, Drake droned on about his problems over the past year including questionable usage of pain medication, separation with The Bank, bad investments with The Bank's money, and living in the guest house on a futon. At one point, Pat pointed out the conflict of interest involving the still alive Alexa Ray who is a member of both RUN GFB and What's Good Games. Drake mostly ignored this important element and continued on with his tale of misery including his ire towards Diet Coke's most recent ad campaign. At some point around seven and a half minutes, Andrea pinned The White Owl to advance to the finals of the tournament.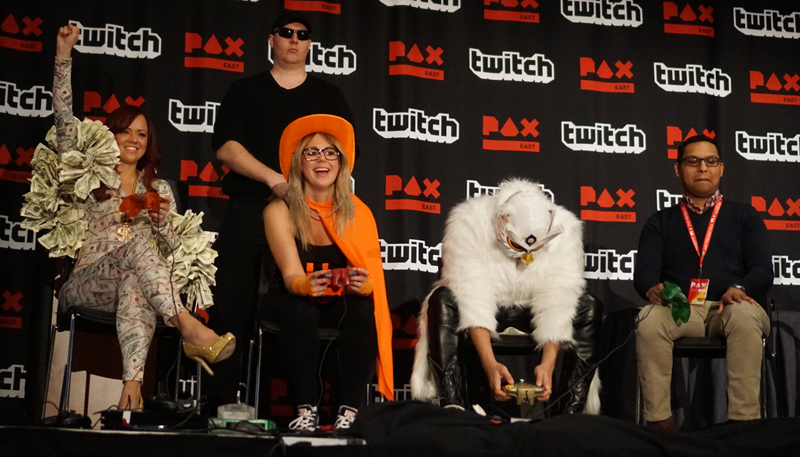 Aaron returned to the announce table and immediately declared RUN GFB the winners of the tournament without even starting the final match. Pat, Pope, and Andrea protested to no avail. As Aaron attempted to end the show, Pat announced he had just received an email in The Baer Caev. To the shock of RUN GFB and the entire LOH universe, Pat had a copy of the living will of former chmampion Austin Walker! In it, Austin's final wish was that whoever beat him for the LOH Championship must defend it at the earliest opportunity or they will be stripped of the title immediately. Pope gleefully announced that, based on current standings, the #1 contender is none other than the stellar Kate Stark, winner of The Great Australian Bash.
VGCW's Brian Ballard quickly hustled to get a match set up in WWE 2K18 with D-Leazy's custom create-a-wrestler. Within the first minute of the match, Casey attempted to interview the champ. Leazy set his controller down to answer the question, which inadvertently revealed that his in-game character was being controlled by the AI the whole time. Pat, Pope, and Kate immediately protested these shenanigans. Brian removed his VGCW shirt to reveal he was a secret member of RUN GFB this whole time, much to the dismay of his AV Club teammate, Ethan. Kate took a stand for the rest of the league claiming enough is enough. She called for all of the League of Heels superstars to organize a union to rid the league of his unadulterated collusion. Pat joined the cause demanding representation, fair wages, good matches, and a league free of murder.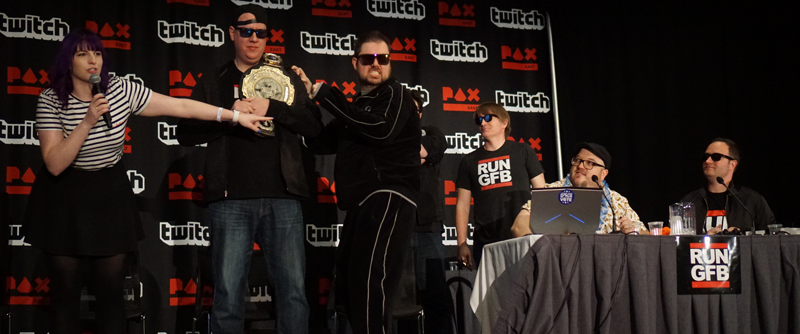 Suddenly, Alex Navarro returned to the arena with a legion of PAX Enforcers investigating a murder. The PAX Enforcers placed Aaron under arrest and physically removed him from the arena kicking and screaming much to the delight of Navarro, Drake, and many others. After the chaos had settled, Pat announced that the N64 is now evidence in a murder and therefore cannot be used in Seattle at PAX West. With Aaron imprisoned, Pat and Pope are now in control of the league and will be bringing some changes to the event in Seattle. Their first order of business was to give all of the superstars vacation until then.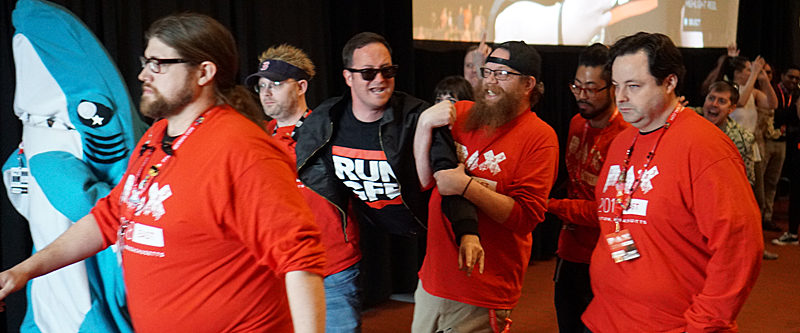 Copyright © 1997 - 2018 League of Heels Inc.
All rights reserved.