PAXAMANIA III
March 11, 2017 - Boston, Massachusetts - Boston Convention & Exhibition Center - Dragonfly Theatre

Filmed and edited by Eric Kanius and Cheslea Smith.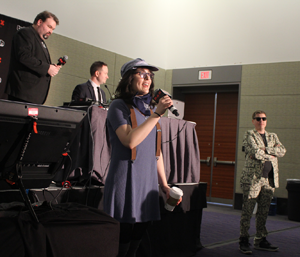 Following months of secrecy, on a below-freezing afternoon in Boston, PAXAMANIA III finally arrived. In true League of Heels fashion, the technical difficulties began before the show even started and would become a focal point later in the show. Not only did majority share-holder, Johnny Cashanova's mic not work, but audio from founder Aaron Trites laptop could not be piped into the theatre. This meant that we all tragically missed out on a rousing rendition of the Golden Girls theme song (as a replacement for "America the Beautiful." To kill time during this debacle, The Trin Train took the stage to recite a Shel Silverstein poem about polar bears. After about 30 seconds, someone in the crowd began to boo, which brought the ire of not only Trin herself, but also the fierce wrath seldom seen from Pat Baer in the Baer Caev.
The show proper started with Aaron Trites once again on play-by-play and the return of "The Pope in the North," Eric Pope, on color commentary. Aaron also introduced the tech team duo of Adam Cardoza and Ethan Yetton, whom Aaron promised were not to blame from the technical difficulties so far. John Drake then cut a promo in the virtual squared circle about how the league was attempting to cut costs by making this event exclusively a tag-team event since they could get wrestlers in package deals. This was interrupted by LOH Champion Austin Walker who put Drake on blast for the shortcomings of the league under this new leadership including not paying talent, no safety precautions, no commissioner present, and faulty equipment. Austin promised that by the end of the show, he would prove that the only way forward for LOH was for he and Drake to work together. He then challenged Drake to a tag match where if Austin won, all the superstars and crew would get paid properly, but if Drake won, Austin was out of the league. Our main event was set.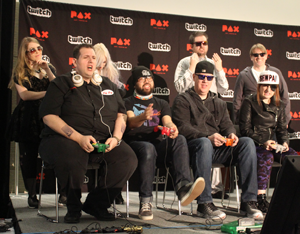 The first match of the evening would be a 4-on-4 tag match featuring a team of LOH rookies versus a strangely mixed team of veterans. The rookie team consisted of "The Lord of Hardware" Big Boy British, Eric Chon, "The Glamunist" Tanya Short, and Johnny Cashanova's Vampire Butler. On the veteran side, we had Dr. Conrad Tracksuit from Fresno, "Cutie Both Ways" D-Leazy, Alexa Ray Corriea, and Rich Gallup. In a purely rookie move, Eric Chon eliminated himself when he dropped Alexa on the ropes from the apron less than a minute into the match. D-Leazy then went to task in taking out the other big man in the match, Big Boy British, who submitted shortly after the two-minute mark. This left the rookies down two versus four. In a twist of fate that could not have been written, The Vampire Butler randomly drew Gangrel as her avatar in the match. This perfect pairing would prove to be an unholy alliance that would undo the veterans. Shortly after entering the ring, The Vampire Butler bit her own teammate, Tanya, which created an unstoppable, all-vampire team. Pat Baer was distraught with the level of spookiness. With her new powers, Tanya eliminated Alexa just short of the five-minute mark by tossing her over the top rope, and then kicked D-Leazy off the apron just a minute later. With the match even at 2-on-2, Rich Gallup entered as The Undertaker. The dark powers of the urn proved to be enough to eliminate the new vampire when Rich tossed Tanya out of the ring at the 9-minute mark. This sent The Vampire Butler into a rage and she successfully eliminated both Tracksuit and Gallup in less than 30 seconds.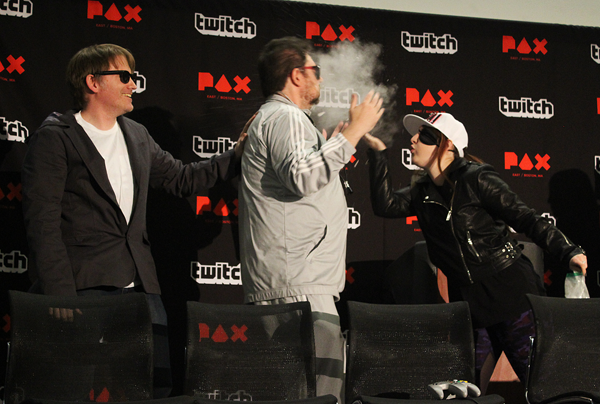 Post-match, D-Leazy entered the Baer Caev to announce that everything that's happened over the past four years has been part of his master plan. The rise and fall of RUN GFB. The demise of the Indie Love Coalition. The back-and-forth sale of the league. He said there was one final piece of the puzzle that needed to be set, which led to Alexa Ray Corriea blowing a cloud of "white powder" into the face of the friendly Dr. Conrad Tracksuit. With that, the transformation back into the deranged Dr. Tracksuit was complete. D-Leazy, Rich, Alexa, and Tracksuit then revealed that they were all wearing RUN GFB shirts. A new era of RUN GFB had arrived.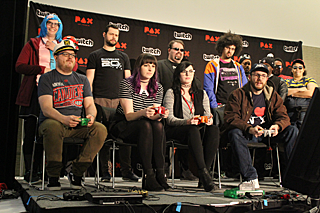 A bewildered Johnny Cashanova returned to the ring, not to rejoin his former faction, but to announce that he had severely injured his ankle by jumping up and down in celebration of his butler's win. The Merch Boss Alex Zandra and The Merchador then joined Pat in the Baer Caev to display the merchandise available after the show. This led to Pat Baer asking Aaron for a little time to discuss an issue he has with Eric Pope's constant praise of Canada. Pat challenged Pope to a New York versus Canada match, which Pope accepted but surprised Pat with a full team of Canadians to back him. Joining Pope to represent "Daddy Trudeau" were LOH's Merch Boss, Kate Stark, Bioware's Devon Gardner, and Canadian Dan Ryckert. Joining Pat in defense of Beatdown City were Waypoint's Danika Harrod and Shawn Allen and his entourage of Black Ness, Maximum Crash, Muazimus Prime, and Odell Jr. Pat only had a team of three, but he then shocked everyone with the revelation that Canadian Dan Ryckert had recently transferred to a GameStop in New York, therefore he should be on Pat's team. Canadian Ryckert stepped forward, magically caught a hot dog out of thin air, and revealed a I Heart NY shirt under his winter jacket. Now known as "Authentic New Yorker" Dan Ryckert, he did indeed join Pat's team.
The match began with Pope and Alex versus Danika and Ryckert. The newly minted "Authentic New Yorker," pumped up on nitrates from that hot dog, came out flying out of the gates when the bell rang. He almost immediately eliminated Alex Zandra by chucking her over the top rope. Ryckert then dispatched Kate as soon as she entered the ring. His hubris got the best of him though because, as he taunted Kate on the floor, she pulled him out of the ring, thus eliminating Ryckert from the match. While waiting for his character to enter, Devon took over for Kate and actually used Kane to pull Pat out of the ring from the floor as well. Danika then reversed an Irish whip from Pope delivered a swift kick that sent Pope reeling backwards over the top. Despite the confusion among the commentators and inaccurately blaming the tech team, that left the match in a 1-on-1 bout between Devon (Vince) and Danika (HHH). At the four minute mark, in a move that some may describe as "dirty," Dan illegally used Pat's character (Rock) to pull Devon out of the ring from the floor, which meant Danika was the sole survivor and had won the match for NYC.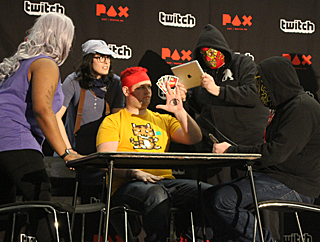 The game inexplicably only sent seven characters to the ring for the match, which meant Shawn Allen never entered the match. But, if he had entered at #8, Danika was the only one there, so NYC would've won anyway. No one seemed to realize this at the time, which caused much confusion and finger-pointing between the competitors and announcers. After the repeated shots from Johnny Cashanova, the tech team had finally had enough. Adam Cardoza took a mic and berated Drake for the years of abuse. Johnny told them to walk if they don't like it, and, despite pleas from Aaron and Pat, that's exactly what they did. And they took the Nintendo 64 with them.
Without any video games available, Pat went to the last resort option and called up Trin Garritano to put together a tabletop match. Trin invited Steve Razlo of Billionaire Banshee and Maya Coleman of Secret Hitler to be part of her team to play WWE Uno. Aaron, struggling to find a team to compete with Trin, called out for former champion Alex "The Wolf" Navarro to fill a spot. Navarro entered the arena through a back entrance carrying a cooler and looking like he hadn't cut his hair or beard since PAX RUMBLE IV. He seemed disgusted by the fact that he had been asked to play a card game. Suddenly, LOH's Spanish announcer Elisa Melendez saved the day by introducing two new luchadors to help get Alex back on track with a win. Thing Uno and Thing Dos, two technical wrestlers from Mexico, quickly ran in and began setting up an iPad to stream the action from the table.
It seemed as though, despite one of them being named Uno, neither of the mysterious luchadors knew how to play the game. Razlo and Maya quickly dispatched them, which meant that The Wolf never even had a chance to compete. An exasperated Navarro took a seat in the ring and went into detail on how terrible the last since months have been since losing his rematch for the championship. He claims to be $69,000 in debt to the Catholic church in order to rid himself of The Ghost of Cohen Edenfield. He got divorced…twice. He started vaping. Dan Ryckert lives near him now. And now he's losing Uno matches. He said he was living his life under the motto of late, great French philosopher Jean-Paul Sartre's words.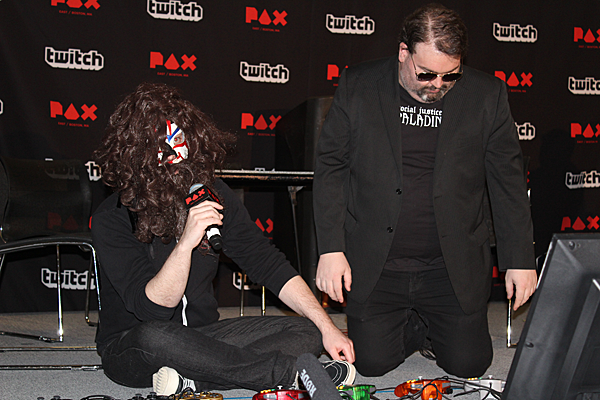 "I tried so hard and I got so far. But, in the end, it doesn't even matter."
The Wolf was on the verge of removing his mask and retiring to become an Uber driver when Aaron stopped him to let him know that Teddy Dief had sent a video message for Alex. Teddy wanted to rub it in that he beat Alex's record for eliminations at last year's Rumble and he will also beat Alex's endurance record in Seattle this year. Teddy says the best thing that Alex can do at this point is quit because it's going to be embarrasing for him if he comes to Seattle. Infuriated, Alex promised to return to settle this.
After seeing what the show was like without a tech team, Johnny Cashanova caved and brought the tech team back into the arena. He claimed he still couldn't pay them, but he could at least give them credit on the website. Aaron then offered to call in Brian from VGCW to help out by setting up a PlayStation 3 for the main event of the evening.
As the match was set to begin, it was revealed that Brian had equipped his copy of WWE 2K14 with created wrestlers made in the likeness of all four competitors. Once the bell rang, Drake immediately attacked Danielle Riendeau despite the fact that she had helped him with his ankle earlier. With Drake's attention on Danielle, he failed to notice Austin delivered a Ron Simmons level spinebuster on The Bank, but Drake was able to interrupt the pinfall at the last second. Action spilled to the outside as The Bank put Austin in a camel clutch while, on the other side of the ring, Danielle landed a KO punch that sent Drake crashing through the announce table. Danielle quickly scored the pinfall to eliminate the majority share holder of the league. She started to make her way to the other side, but Austin already had The Bank in a Cobra Clutch, which caused her to tap out after several seconds.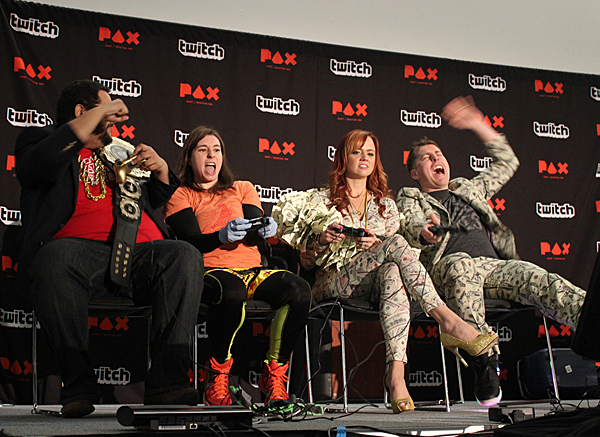 Despite the loss of the match and his jacket made of money, Johnny Cashanova is still the majority owner of the league. And, of course, Austin is still the LOH Champion. So, we now turn our eyes towards the northwest and the fifth (yes, fifth) PAX Rumble and begin to speculate what may occur in Seattle. Will Alex and Teddy settle their score? What role will the new RUN GFB play in the 30-person event? Who will rise up to challenge Austin for all the gold? We'll find out this Labor Day weekend!

Match
Stipulation
Winner
Decision
Time
Notes
Big Boy British
Eric Chon
Tanya Short
The Vampire Butler
-vs-
Dr. Tracksuit
D-Leazy
Alexa Ray Corriea
Rich Gallup
The Rookies
vs
The Veterans
The Rookies
Ring Out
9:31
Eric Chon (Kane) eliminated himself. (0:22)
Big Boy (Jericho) submitted to D-Leazy (Mankind). (2:22)
Alexa (Rock) was eliminated by Tanya (Big Show). (4:40)
D-Leazy was eliminated by Tanya. (6:07)
Tanya was eliminated by Rich (Undertaker). (8:58)
Tracksuit was eliminated by Vampire Butler (Gangrel). (9:23)
Rich was eliminated Vampire Butler. (9:31)
Eric Pope
Alex Zandra
Kate Stark
Devon Gardner
-vs-
Pat Baer
Shawn Allen
Danika Harrod
Authentic NY Ryckert
Team Canada
vs
Team NYC
Team NYC
Ring Out
4:07
Alex Zandra (Undertaker) was eliminated by Ryckert (Austin). (0:23)
Kate Stark (Kane) was eliminated by Ryckert. (0:54)
Ryckert was eliminated by Kate/Devon (Kane) from the outside. (1:55)
Pat (Rock) was eliminated by Devon (Kane) from the outside. (2:21)
Pope (Shane) was eliminated by Danika (HHH). (2:28)
Devon (Vince) was eliminated by Dan from the outside. (4:07)
Trin Garritano
Steve "Razlo" Bailey
Maya Coleman
-vs-
Alex Navarro
Thing Uno
Thing Dos
w/Elisa Melendez
2-Out-of-3
Falls
Team Tabletop
2-0
4:31
Razlo defeated Thing Dos. (2:09)
Maya defeated Thing Uno. (2:22)
Austin Walker
Danielle Riendeau
-vs-
Johnny Cashanova
The Bank
Elimination Match

The Revolution
vs
The Establishment
The Revolution
Submit
3:45
Danielle pinned Drake. (3:29)
Austin forced The Bank to submit. (3:45)

Copyright © 1997 - 2017 League of Heels Inc.
All rights reserved.