News Archive

The Sweet 16 17
August 25, 2017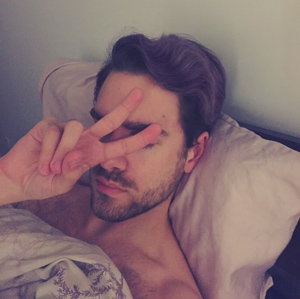 With just over a week left before the best in eSports entertainment descend upon The Westin in Seattle, we're finding out more and more info about who will actually participate in the Rumble. We have 17 who are officially in the match. Conspicuous absences on the list below include two former champions who both have ties with Teddy Dief. The MVP of the 2016 Rumble is on a mission to take down Alex Navarro's endurance record, and the former champ has yet to officially declare his intent to defend it. This would be "The Wolf's" first Rumble since 2014. And then there's Samantha Kalman. At the end of last year's Rumble, she was forced to sign away all rights to the Indie Love Coalition and join Dief's stable. Will Um Jammer Sammy return for her first Rumble since winning in 2015? Who can say?

Rumble Rookies & Returns
August 18, 2017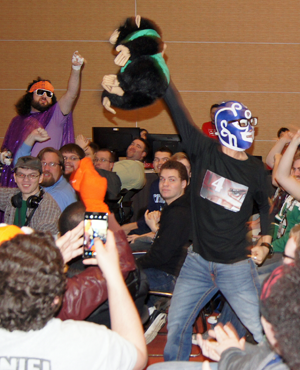 We're just two weeks away from the first-ever fifth #PAXRUMBLE and some of the participants are starting to check in with official announcements of their entry. First up, we know that the newly reformed RUN GFB will be attempting to run roughshod over the Rumble like they did in 2014. D-Leazy is already working on a training montage and Dr. Tracksuit is looking for a submarine "repairist" in the Seattle area. LeagueOfHeels.com can also confirm that two superstars from past PAXAMANIAs will be entering their first Rumble this year; "The Gentleman" and the one and only SWERY.
Speaking of SWERY, he appears to be returning to League of Heels in cahoots with Matt Conn of Midboss. Conn is all over social media claiming to be bringing a revolution to the league. What could this mean? Could there be others in his stable? This might be a case for Det. Benjamin Princess if I ever saw one.
And then, we've got some full-blown, bright-eyed rookies coming to the Rumble. We've got ArenaNet's Aaron Linde, Video Game Choo Choo's Andi Claire, and the towering menace known as Giant Bomb's Ben Pack.
Stay tuned to LeagueOfHeels.com because we're on the verge of confirming several more rookies and veterans alike for this year's Rumble.

A Fun, Safe Time with Friends
July 18, 2017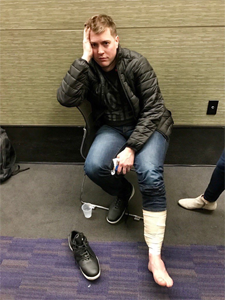 It's official. Apologies in advance, but the fifth #PAXRUMBLE will emanate live from Seattle on Sunday, September 3rd. And we're back to our traditional start time of the ass crack of dawn, 10:00 AM. As LOH promoter, Aaron Trites, stated, "It's what we deserve." We don't have word yet on which theatre that the annual, 30-person eSports entertainment battle royale will take place, so stay tuned for further updates including returning Superstars and the new batch of rookies who will enter this year's Rumble.

On the Rumble Road
July 8, 2017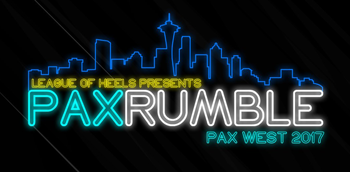 We're less than two months away from the fifth (fuck…fifth?) #PAXRUMBLE. While you're waiting for the rumor mill to really start spinning, we've finally updated all of the Superstar pages for those who participated in PAXAMANIA III. That includes fourteen brand new pages including the entire #AVClub, Big Boy British, The Vampire Butler, and many more. Stay tuned for all the news regarding the upcoming Rumble in Seattle!

From N64 to the Main Stage
April 6, 2017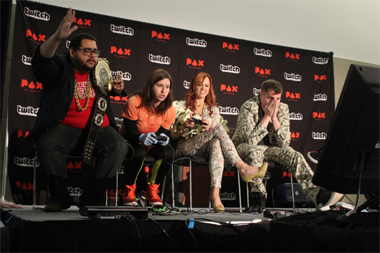 The former LOH Superstar known as "The Beef" Sarah LeBoeuf has written an article for GamesRadar detailing the inception and history of the pinnacle in eSports entertainment. With quotes from Aaron Trites, Eric Pope, and Alexa Ray Corriea, the article is an excellent look back at the last three-plus years of shattered glass, fog machines, hotel evacuations, and occasional video game wrestling.

PAXAMANIA III Home Video
April 2, 2017
Our friends at ENC3000.com have published their video production of PAXAMANIA III in record time! Now you can finally see all of the superstar shenanigans that you missed during the live stream.

PAXAMANIA III Photo Album
March 15, 2017
If you watched PAXAMANIA III on Twitch, you missed a lot of what happened during the show. Did you notice Austin Walker had a gold PS3 controller? Did you see The Vampire Butler turn her teammate, Tanya Short, into a vampire? Did you notice dirty "Authentic New Yorker" Dan Ryckert take control of Pat Baer's avatar in order to score the winning elimination? Did you see The Wolf tear out his own hair in response to Teddy Dief's promo? Well, we have 150 photos from the front row that caught all the action. It's your best option at least until our friends at ENC3000.com have time to edit the official video.
These photos include exclusive behind-the-scenes moments from before the event too!

150 Photos From the Front Row!!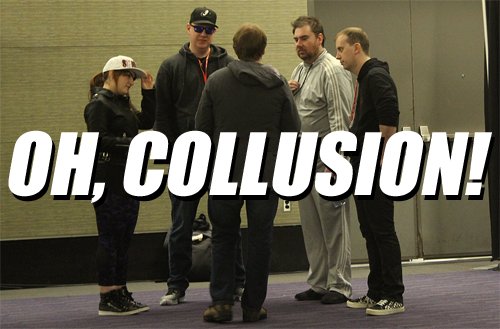 PAXAMANIA III Aftermath
March 14, 2017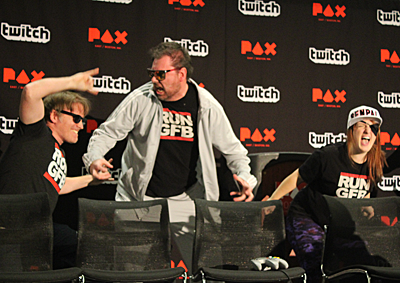 The third annual PAXAMANIA is officially in the books. We saw vampires, weird game glitches, utterly confused commentators, the return of an evil faction, a large screaming man, another Dan Ryckert, technical problems, poetry readings, whiny wolves, and someone got seriously injured. So…you know…your run-of-the-mill League of Heels show you've come to know and love. If you missed the show, you can watch the Twitch stream replay now, but the ENC3000 version will undoubtedly be much better in a few months. Here on LeagueOfHeels.com we have a full, moment-to-moment rundown of what happened amidst the tag team warfare that filled the card.
We'll have more coverage including dozens of photos from the front as well some behind the scenes photos in the days and weeks to come.

PAXAMANIA Preview
March 8, 2017

Pre-PAX Battle at the Brattle
February 26, 2017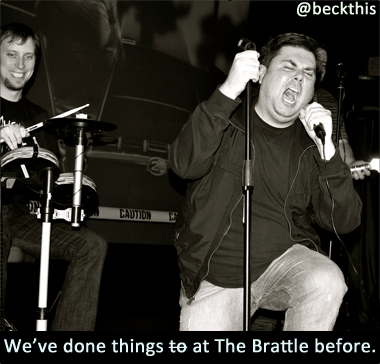 On the night of Thursday, March 9th, at the same venue where the music died, League of Heels will be presenting the world premiere of ENC3000's LOH documentary film. Eric and Chelsea have been bringing you top notch video of League events for years, and now they're going to take you behind the scenes and interviewing many of your favorite superstars!
Following the premiere, there will be a Q&A session, but that's not all! This is a Brattle double feature! After the Q&A and intermission, they will be showing the 1986 rock 'n wrestling classic, Body Slam featuring Roddy Piper. So, if you're coming into town early for PAX, hopefully you can snag a ticket and make it out to Cambridge for this PAXAMANIA pre-show.
League of Heels
presents
A Video Game Wrestling Documentary
Just remember. Please don't touch the fucking screen. Thanks.

New Day. New Time. Same Shit Show.
February 7, 2017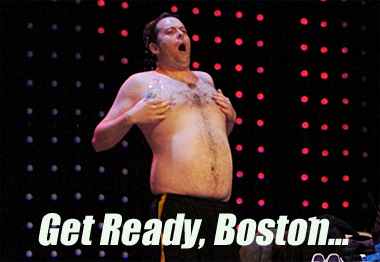 This year, League of Heels is breaking the tradition of holding their premiere events at the ass crack of dawn on the Sunday morning of PAX. At PAX East 2017, PAXAMANIA III will emanate from the Dragonfly Theatre on Saturday at 4:00 PM EST. In addition to the new time slot, the third anniversary of annual PAXAMANIA will have two hours to fill. According to League officials, "We didn't ask for this." More inexplicable decision by PAX organizers.
As you can see above, the countdown is officially on! Stay tuned for more news as we speed down the road to PAXAMANIA III.

PAXAMANIA Returns to PAX East…Sorry
January 15, 2017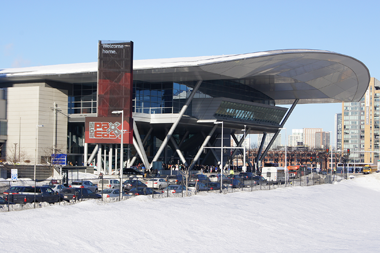 In yet another inconceivable lapse in judgment by PAX organizers, the third annual shit show of the immortals, #PAXAMANIA, has been officially sanctioned and will return to the Boston Convention Center on the second weekend in March. Details including exact time and theater have yet to be revealed, but Aaron Trites has confirmed that it will be streamed live (unless PAX comes to their senses and relocates the event to the bowels of the convention center).
Which superstars will be involved in the event? Will anyone actually play video games? Who will be the first challenger to the man of 1,004 names Austin Walker's title? Stay tuned for more details in the weeks to come!

30 of the Best & Brightest
November 6, 2016
| | | |
| --- | --- | --- |
| The good folks over at PennyArcadeTV have posted a mini documentary about League of Heels. Penny Arcade founder, Jerry "Tycho" Holkins," describes it as one of the thousands of mini conventions that take place within PAX that has its own "texture." That's a…polite way to put it. All of the footage comes from this year's PAX RUMBLE IV and features interviews with Aaron Trites, Jeff Gerstmann, and former champion Samantha Kalman. | | |

All Superstars Updated
September 15, 2016
It took a little while, but every superstar that debuted at PAX RUMBLE IV now has their own page on the site. Also, all returning superstars have had their pages updated as well. So, if you want a bio and/or rundown about what happened with each specific person, those are all available now. In total, the roster now tops out at exactly 100 superstars. No rumors of a roster split around here yet, though.

PAX Rumble IV Recap & Photos
September 8, 2016
If you watched PAX RUMBLE IV on Twitch, you missed a lot of what happened during the show. Did you know The Merchador stole KF.Fobwashed's keyboard? Did you know The Bitch Witch was capable of casting charm spells on other superstars? Did you notice the trouble brewing between "The Bank" and Genevieve? Did you notice who was actually controlling Kane that whole time? These and many other questions can be answered by our full breakdown. It's your best option at least until our friends at ENC3000.com have time to edit the official video.
Also, we have uploaded over 250 photos from the front row! These photos include exclusive behind-the-scenes moments from before and after the Rumble!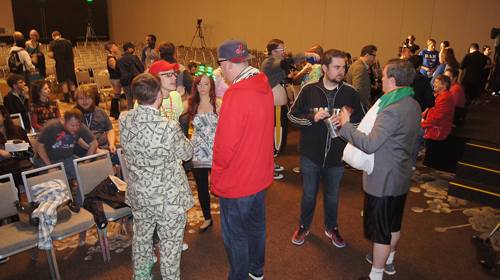 It Was Me, Austin!
September 7, 2016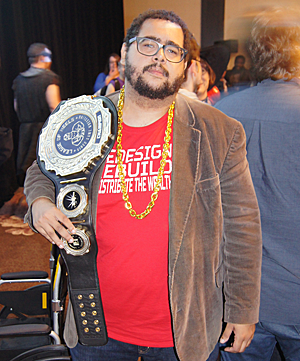 PAX RUMBLE IV is in the books. The company was bought and sold countless times. Several superstars returned from injury. A rookie dominated much of the Rumble. Collusion had a hand in the final result. But, at the end of the day, the most important thing coming out of the Rumble was the fact that we have a new champion. "Professa Killah" Austin Walker decisively won the triple threat main event for the brand new League of Heels Championship belt by delivering two Stone Cold Stunners to the former champ, Samantha Kaman, in just under three minutes.
We'll have a full rundown of the event as well as hundreds of photos from before, during, and after the Rumble over the next several days. So, stay tuned!

Merch Boss Update
August 31, 2016
| | | |
| --- | --- | --- |
| Alex Zandra the Merch Boss is back with news on the final version of the PAX RUMBLE Poster and Comic Book that will be available before, during(?), and after the show this Sunday. She has also hired some help from who specializes in…securing transactions. He calls himself The Merchador and he's been training every day to swipe your credit cards with a quickness that only El Dandy could match. Make sure to fill out the SURVEY if you're interested in one of these limited edition souvenirs. Everybody's got a price, ya know. | | |

The (Almost) Full Roster Revealed
August 30, 2016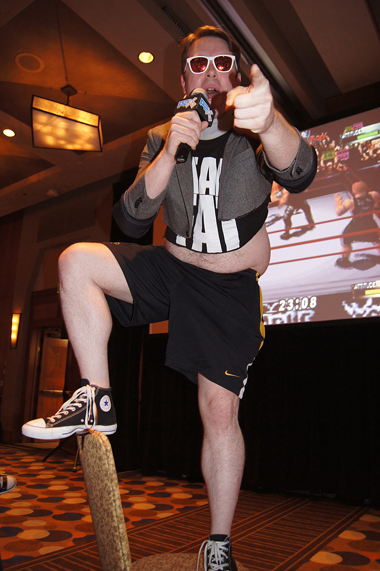 With PAX RUMBLE IV just a few days away, one of the biggest mysteries for the LOH Universe is which superstars will fill the 30-person roster for the Rumble itself. Who's returning? How many rookies will there be? Well, we here at LeagueOfHeels.com have the answers for you. Keep in mind that there may very well be a few surprises left to be revealed during the Rumble. We'll have new superstar pages for all the rookies next week!
Alexa Ray Corriea (Gamespot)
Amarisse Sullivan (Oculus)
Andrea Rene (GameStop TV)
Austin Walker (VICE Gaming)
Brittney Brombacher (BlondeNerd.com)
Calamity Jamie (Amazon Games)
The Ghost of Cohen Edenfield (HiveSwap)
Dan Amrich (Ubisoft)
"Dirty" Dan Ryckert (Giant Bomb)
Danielle Riendeau (ZAM)
Danny O'Dwyer (Gamespot)
Dave Lang, Esq. (Iron Galaxy)
Eric Baudour (Mega64)
Erica the Witch (Parts Unknown)
IG.Fobwashed (Fobwashed LLC)
Genevieve St-Onge (Square Enix)
Graham Stark (LoadingReadyRun)
Greg Miller (Kinda Funny)
Henry Gilbert (Fandom.com)
Jacqui Collins (Adult Swim Games)
Jared Rea (Nintendo)
John Drake (Sony)
Kahlief Adams (Spawn On Me)
Kate Welch (Amazon Games)
Kris Straub (Chainsawsuit)
Mikey Neumann (Gearbox)
Paul Verhoeven (28 Plays Later)
Sean Vanaman (Camp Santo)
Teddy Hollywood (Square Enix)

Aaron Trites will of course be on play-by-play, but Eric Pope is unable to attend, so Jeff Gerstmann is making his return to LOH to temporarily take his place. And Pat Baer will once again be reporting live from The Baer Caev while keeping an eye out for any fog machines smuggled into the building.

LOH Goes International
August 30, 2016
Sure. League of Heels has always had some international superstars, but there seems to be a sudden influx for this year's Rumble. A trio of rookie superstars are headed to Seattle right now from Montreal. First, we have the dynamic duo of Genevieve and Teddy Hollywood from Square Enix who are tired of people who write about what these two do for a living getting all the attention. It was originally called the "Game Industry Rumble" for a reason. What's peculiar is that they somehow believe they're going to win together. Regardless of LOH's bylaws, I'm not sure WrestleMania 2000 will allow for that…

Secondly, also from Montreal, we have Erica the…witch? Wait, we have a witch in the league now? Is that…safe? She seems to have a bat. Is that legal? It doesn't sound so crazy when you remember there's already a wizard, a ghost, and a hypnotic snake man.

Aside from the Canadian invasion, the leader in eSports Entertainment has also has drawn the attention of one the highest profile eSports competitors from Korea. He goes by IG.Fobwashed and, if Google Translate is to be trusted, he's already in Seattle preparing. Whether his unprecedented level of APM will help him in the virtual squared circle will be determined this Sunday!




What a Difference a Year Makes
August 29, 2016
When the 3rd Annual* PAX RUMBLE ended, Samantha Kalman was the brand new champion and the Indie Love Coalition was riding high. Fast forward to today and although "Um Jammer Sammy" is still the champ, the belt hasn't been seen in nearly a year, Alexa Ray Corriea and Sean Baptiste have left the stable, and the most recent superstar to join the ILC, Danielle Riendeau left the champ laying unconscious at PAXAMANIA II.

Now, we have learned that the bad news will continue for the former "People's Champion" as she prepares to defend her championship at PAX RUMBLE IV. The manager of ILC, Rich Gallup is unable to make it to Seattle due to budget problems, which means the LOH champ will have to survive a triple threat match all by herself if she wants to keep that (still missing) belt.

One Week 'til the War in the Westin
August 28, 2016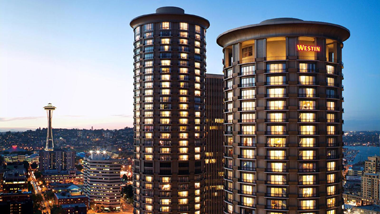 One week from today, we will finally get answers. Which of your favorite superstars will enter the Rumble once more? Could a legend of yesteryear make a surprise return? How many new superstars will debut? Who the hell bought the league? Did anyone ever find that damn belt? And, most importantly, who will become the definitive, undisputed League of Heels Champion?
For those that will be in Seattle, remember that the Rumble has relocated to The Westin. It seems that after two years…we're not welcome in The Grand Hyatt anymore. Can't imagine why. The new venue is farther away from the convention center, so make sure to give yourself enough time to get there bright and early on Sunday morning.
For those who cannot be in Seattle, remember that PAX RUMBLE IV will be streaming live on the brand new twitch.tv/PAX3 (that's a three).

The Ozymandias of the Octagon Has a Message
August 26, 2016
| | | |
| --- | --- | --- |
| Pat Baer's winding adventure through The Baer Cave in the lead up to PAX RUMBLE IV has reached its conclusion. But, not before a run-in with the man who some say is the rightful champion, "The Editor-in-Beef" Austin Walker. Although he scored the pinfall in the LOH Championship match at PAXAMANIA II, Austin is not being included in the title match in Seattle. He is vowing to fight his way through twenty-nine other superstars to earn his way into the triple threat match at The Westin against "a sociopath in a mask who stands for nothing" and "a corrupt insider who leverages your love for personal gain." Will Austin be the answer to all of our questions? #RedistributeTheBelt | | |

We'll Be at the Gimmick Table
August 22, 2016
If you've been keeping up with Pat Baer's updates from The Baer Caev, then you already know that there's now official LOH merch that will be available before, during(?), and after #PAXRUMBLE IV. Thanks to HavocHQ, who also designed the PAXAMANIA II poster, there will be a poster as well as a collection of prequel comics. If you'd be interested in either of these things, head on over to the official League of Heels Merch page, and fill out a survey to help determine how many should be made, which will also determine the price.

Will there be other merch available too? Who can say? Who can say?

This Changes Everything
August 20, 2016
The as of yet unknown new owners of what is now known as League of Heels promised sweeping changes to the world of eSports Entertainment, but I'm not sure this is what they had in mind. In a monumental swerve, "Dirty" Dan Ryckert, who is currently banned from competing at PAX events after getting kicked out of PAX East, has aligned himself with… Xavier Woods?! These two have been feuding via video messages for years, but have inexplicably joined forces in order to ensure that Ryckert will somehow infiltrate The Westin, enter the #PAXRUMBLE, and earn a spot in the LOH Championship Triple Threat Match against Samantha Kalman and Alex "The Wolf" Navarro.

Will the new owners of the league beef up security in Seattle to keep Dan out? We'll find out in just two weeks! I mean…when has a nefarious plan by "Dirty" Dan Ryckert ever gone wrong?

We Are League of Heels
August 19, 2016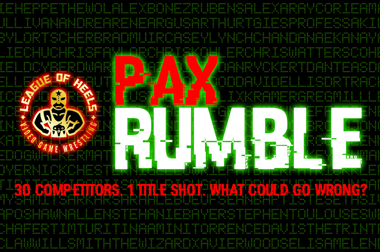 Welcome to the new and not-so-improved home for news about the premiere eSports entertainment promotion! As you have likely heard from today's edition of The Baer Caev, new ownership has officially changed the name of what was once known simply as PAX Wrestling. Despite abruptly shutting down our previous website, the mysterious new leadership is allowing me to continue to bring you all the latest and greatest news regarding your favorite superstars.
For now, the new owners would simply like to remind the LOH Universe that #PAXRUMBLE IV will emanate live from The Westin in Seattle on September 4th at 10:00 AM PDT. For those who are unable to attend in person, you can witness the dawn of a new era in eSports entertainment from the comfort of your own home at Twitch.tv/PAX3.

PAXAMANIA II Home Video Release
August 4, 2016

Gruesome Greggy Rocks the Promo
July 24, 2016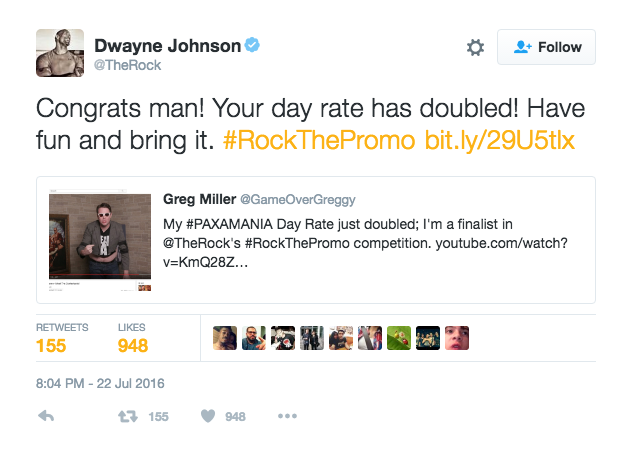 He may not be the commissioner anymore, but Gruesome Greggy has taken his talents to YouTube and become one of the thirty-two finalists in the Rock the Promo contest, which is presented by none other than Dwayne "The Rock" Johnson himself. That's right. The most electrifying man in all of entertainment is at least vaguely aware of LOH Wrestling. Just think about that for a minute.
The LOH Universe has known for years that the leader of Team Fat can cut a mean promo, but now the rest of the world will as well. The first round of the 32-person bracket gets under way on July 29 over on The Rock's YouTube channel. The last we saw Miller, he was left in a heap of broken ribs by Dirty Dan Ryckert and an army of kaiju. An opportunity to impress his hero, The Rock, with a deep run in this tournament will only embolden the former commissioner for his inevitable return to the digital squared circle.

The 4th Annual* PAX Rumble Live from Seattle!
July 14, 2016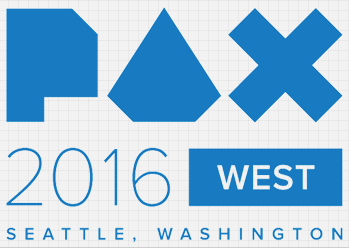 LOH Wrestling play-by-play man, Aaron Trites, announced this morning that the #PAXRUMBLE will indeed return to PAX West (formerly Prime) on Sunday, September 4th at the traditional time of "too fuckin' early for this shit" (10:00 AM). Although it will not take place in the main theater as PAXAMANIA II did in Boston, we have it on good authority that the even will be streamed live on Twitch.
We're exactly fifty days away from the opening of PAX West, and speculation over who will enter this year's Rumble is already at a fever pitch. There's sure to be some new faces in the mix, but will we see any returning superstars from yesteryear? After Aaron's announcement, the one and only David Ellis immediately chimed in to let everyone know that his "bodyguards are prepared." Ellis hasn't been seen in LOH since 2014! Aside from who will be in the Rumble itself, there's still a dispute over who the champion is. And, who exactly are the new owners of the promotion and what changes will be implemented as we get closer to Seattle? Hopefully, we'll dig up some news soon!

We-We-We Are In Control!
April 29, 2016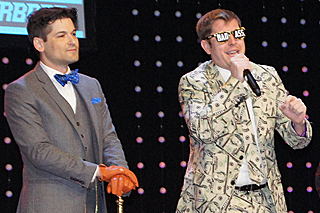 In a shocking announcement from The Baer Caev, we have learned that when Greg Miller (temporarily) stepped down as commissioner in order to fight Dirty Dan Ryckert, someone seized the opportunity to purchase LOH Wrestling in its entirety. Not only will Miller NOT be reinstated as commissioner, but we may very well see a change in the name of the federation as well as a new championship belt to replace the one lost by current(?) champion Samantha Kalman. No one truly knows who the new buyer is or what their intentions are. The obvious candidates are Johnny Cashanova & The Gentleman, but when has anything obvious happened in LOH Wrestling? Pat Baer has some other theories in his announcement, which you can view below. But, it looks like we're going to have to wait until the RUMBLE to find out for sure.

PAXAMANIA II Results & Photos
April 28, 2016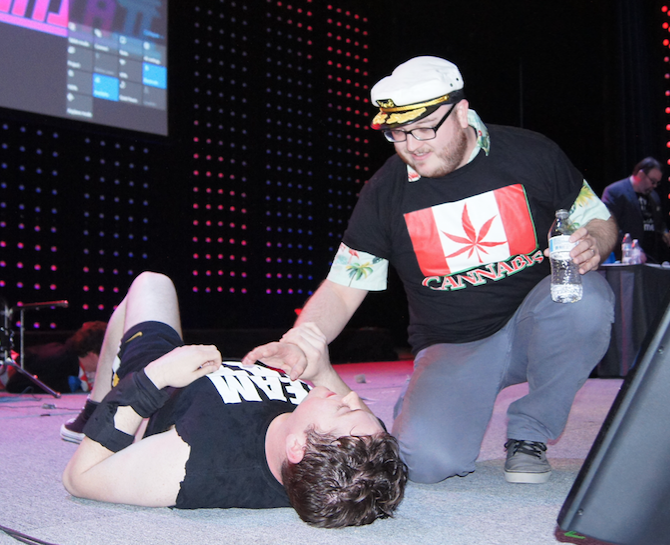 Well, PAXAMANIA II is officially in the books and PAXAMANIA.com was there covering everything live from the front row. Coming as a shock to virtually no one, almost nothing went as planned for the show. The #1 Contender was a no-show. WWE World Tag Team Champion Xavier Woods was stuck in England. A substitute may have won the belt. The Indie Love Coaltion may be dead. The N64 had technical difficulties. There were restraining orders, Skype calls, civil suits, $10,000 bribes, monsters, hypnotism, and so much more that had to be seen to be believed. While we wait on the official video production of the show, we here at PAXAMANIA.com have a full breakdown written up for you to get caught up.
We also took over 250 photos from ringside including some pre-show behind the scenes shots and a few post-show exclusives! You can view the full, chronological image gallery right now!

250+ Photos From the Front Row!!

The bad news is that there are many questions that have arisen with the results of PAXAMANIA II. The good news is that The 4th* Annual PAX Rumble is only about 120 days away!

Gruesome Greggy Rocks the Promo
July 24, 2016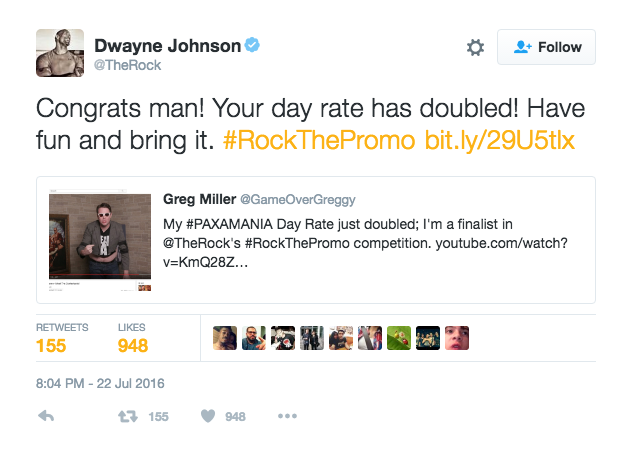 He may not be the commissioner anymore, but Gruesome Greggy has taken his talents to YouTube and become one of the thirty-two finalists in the Rock the Promo contest, which is presented by none other than Dwayne "The Rock" Johnson himself. That's right. The most electrifying man in all of entertainment is at least vaguely aware of LOH Wrestling. Just think about that for a minute.
The LOH Universe has known for years that the leader of Team Fat can cut a mean promo, but now the rest of the world will as well. The first round of the 32-person bracket gets under way on July 29 over on The Rock's YouTube channel. The last we saw Miller, he was left in a heap of broken ribs by Dirty Dan Ryckert and an army of kaiju. An opportunity to impress his hero, The Rock, with a deep run in this tournament will only embolden the former commissioner for his inevitable return to the digital squared circle.

Promos for Days
April 19, 2016
We're mere days away from PAXAMANIA II and rumors are swirling around Boston about what's actually going to happen at the event. With Xavier Woods having to cancel, the Mario Kart Double Dash showdown has been postponed. In the meantime, Dirty Dan Ryckert has challenged the Commissioner, Gruesome Greggy, to a "Loser Leaves Town" match. Will the commish be coerced into accepting this match? Who can say? Who can say?
Other questions must be answered as well including who will claim a tournament victory in the Jeff Green Memorial Tag Team Tournament. Also, no one seems to know where the LOH Championship belt is. Will the champion, Um Jammer Sammy, be prepared for her first title defense? Or have the last seven months of partying (virtual and otherwise) spell the end of the reign of love. PAXAMANIA.com will continue to work on confirming some truly insane rumors we've been hearing this week. One thing's for sure, we're in for some surprises.
If you haven't been keeping up with the series of promos that many of the LOH Superstars have released in the last week or so, here's a list for you to get caught up before Sunday. The time-bending properties of The Baer Caev are not to be missed!
| | | |
| --- | --- | --- |
| | | |
| Dirty Dan Ryckert has new targets at PAXAMANIA. | The Commish isn't having it. | D-Leazy has found a loop hole. |
| | | |
| The Galactus of the Game enters the Baer Caev. | CHIKARA is coming! | The Wolf is quite upset. |

CHIKARA Vies for eSports Entertainment Tag Team Supremacy
April 11, 2016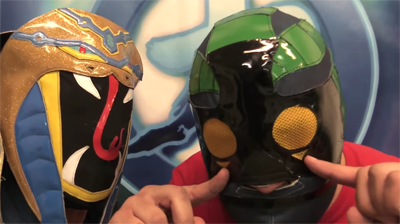 In last week's edition of The Baer Caev, Pat Baer revealed that there will be a tag team tournament held at next week's PAXAMANIA II. He also hinted at a super secret tag team that would be debuting in LOH Wrestling. Rumors began swirling on the Internet immediately. We now know that tag team is none other than Argus and Ophidian from CHIKARA, the popular lucha libre promotion out of Philadelphia. It was none other than CHIKARA referee Bryce Remsburg who contacted this very website back in February to initiate some kind of deal to get CHIKARA involved!
The Gecko-Roman Wrestler known as Argus and The Master of Snake Style Lucha Ophidian are now on their way to Boston to disrupt this illustrious tag team tournament. What will happen when world of lucha libre clashes with the world of eSports entertainment? Well, we have less than two weeks before we will find out live in the main theatre at the Boston Convention & Exhibition Center!

LOH Wrestling Invades WrestleMania
April 4, 2016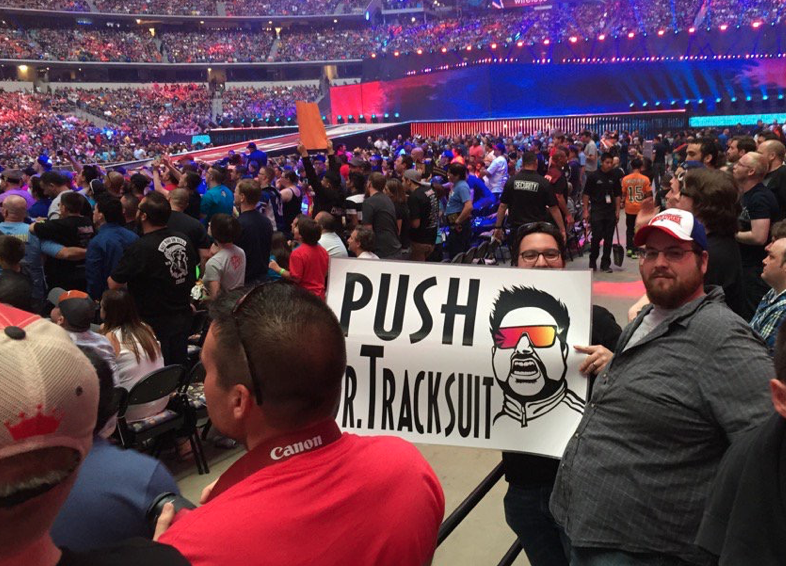 PAXAMANIA II is less than three weeks away, and now the millions (and millions) of viewers of WrestleMania 32 know about it too. Thanks to Michael Cantor of Portsmouth, New Hampshire, two LOH Wrestling themed signs were highly visible for the nearly 7-hour duration of the biggest event in sports entertainment history. The one and only Dirty Dan Ryckert was in attendance as well, and tracked down Mr. Cantor (and a sad soul who won't let the RUN GFB dream die) for a once-in-a-lifetime photo.
While WrestleMania 32 broke their own attendance record last Sunday, PAXAMANIA will undoubtedly do the same on April 24th. Whether or not we'll see an old, white dude ruin the best match of the show at PAXAMANIA too is unclear at this time, but rumor has it that D-Leazy will be lurking around Boston that weekend. And with a full-on ban on fog machines, could Commissioner Greg Miller have been inspired by The Rock's flame thrower last night? One thing is definitely for sure, though. Literally no one knows what the C-Up button does. Still.

Bingo Halls No More
February 23, 2016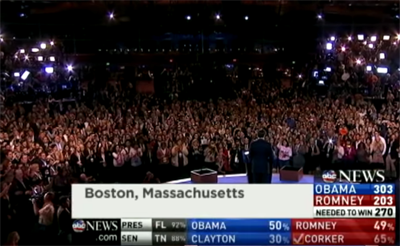 PAXAMANIA II is less than sixty days away and it just got a hell of a lot bigger. In what can only be described as a terrible mistake by PAX organizers, the biggest event in eSports Entertainment history will now be taking place in the Main Theatre of the Boston Convention & Entertainment Center. That's right. The very same room that in 2012 housed the greatest game of Crokinole ever played. The very same room that witnessed the worst demonstration of SpaceTeam ever attempted. And, yes, the very same room where Mitt Romney gave his concession speech in 2012 after his "home" state decided someone else would be a better president.
In less than two months, we can add PAXAMANIA II to the list of illustrious events that have taken place in the penthouse of the BCEC.
Where is the LOH Championship belt?
Can Amarisse do the impossible and beat the champ?
Who will reign supreme in the Double Dash Grudge match?
Will D-Leazy finagle his way back into a match?
How many fog machines will Commissioner Greggy bring to Boston?

Many questions will be answered, so get up bright and early Sunday morning on April 24th to witness history.

A New #1 Contender is Crowned
January 30, 2016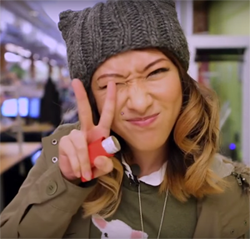 It took more than the planned seven matches, some controversial decisions, and a whole lot of masked run-ins, but we now have a contender for Samantha Kalman's championship. Against all odds, "The Office Mom" Amarisse Sullivan and her fanny pack emerged victorious and is on her way to PAXAMANIA II in Boston.
We also saw the introduction of the Jeff Green Foundation, which puts the spotlight on LOH Superstars of yesteryear. The first inductee was, of course, Jeff Green himself. Long-time fans of LOH Wrestling fondly remember the glory days of the golden-masked, shirtless crusader saving the day time and time again. And, now, we will remember him forever here on PAXAMANIA.com's Hall of Fame. Don't worry. He's totally fine.
It was also revealed during the course of Southern Slam that Samantha Kalman has somehow misplaced the prestigious LOH Championship belt while on one of her celebratory, all-night benders. She also had some unkind words for the contenders in the tournament. Has success changed the leader of the Indie Love Coalition? And who actually has the belt? We may have to wait until PAX East to find the answers to these important questions. Luckily, we're less than 90 days away. We're officially on the Road to PAXAMANIA!

PAX Rumble 2015 Now Available on VHS
December 8, 2015
Thanks to our friends at Coliseum Home Video Split the Bill, the PAX Rumble 2015 is now available on home video for you to watch any time you please. That's right. You can now relive fiery debacle that nearly ended LOH Wrestling forever. The shocking interference by WWE's Xavier Woods, the swirly heard 'round the world, the Commissioner yelling at "slack jawed yokels," all that gorgeous ring attire, the death of Run GFB, and the crowning of a new LOH champion; it's all here.
Some say that if it weren't for #TurnOnTheFogMachine trending worldwide through Labor Day weekend, there's no way that Commissioner Greg Miller would've had enough notoriety to become The Gaming Awards' Trending Gamer of the Year.

Only One Remains
January 27, 2016 - Promo Image Courtesy of Owen Douglass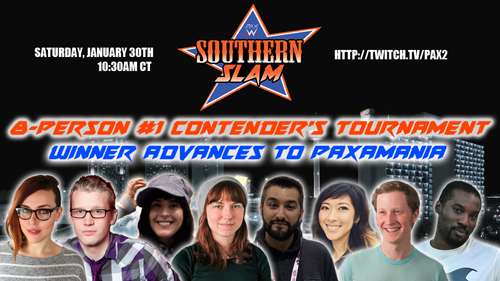 After five of the eight entrants in the Southern Slam #1 Contender Tournament leaked Monday here on PAXAMANIA.com, it appears that LOH promoter and play-by-play man Aaron Trites isn't taking any chances on that happening again. Today, two of the remaining three superstars were officially announced!
Returning to the LOH ring for the first time since the inaugural PAX RUMBLE is none other than Amarisse Sullivan. In that event, she survived over five minutes before becoming the first victim of the eventual winner, "The Wolf" Alex Navarro. Since then, the LOH Universe has been patiently waiting for the Double Fine Office Mom's return. After nearly two years away, will she be rusty? Or has it been two years of intense training?
And who is the seventh entrant (and third newcomer)? You know him from that vertical TV thing in the gaming department of your local Target Gamespot, it's Chris Watters! Unless the tournament is being held in Rocket League, it's unclear what Chris' chances are. Will one of these rookies shock the world and move on to challenge the champ at PAXAMANIA II in Boston? We'll find out this Saturday!

Southern Slam Dirt
January 25, 2016 - Promo Image Courtesy of Owen Douglass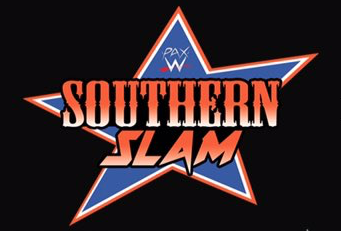 The inaugural Southern Slam is this weekend and the rumor mill is spinning out of control. Earlier today, senior referee Pat Baer uploaded a video online (bandwidth warning) announcing an 8-person tournament that will crown a new #1 contender for Um Jammer Sammy's LOH Championship. The winner of the tournament will face the champ at the showcase of the immortals, PAXAMANIA II, in April.
Mr. Baer also revealed that Commissioner Greggy has decided to take the entire month off (presumably to watch the Suicide Squad trailer on loop non-stop). This has led D-Leazy, who was just fired from LOH by the Commish at PAX Rumble 2015, to purchase a front row seat in the Falcon Theatre in San Antonio. What does the former leader of Run GFB have planned? You'll have to tune in Saturday morning to find out!
But, back to the tournament…which eight superstars are going to compete? Well, Pat Baer mentioned that some members of the Indie Love Coalition will be involved, which means the champ may have to face one of her best friends. PAXAMANIA.com has dug a little deeper and found out a few names who will be returning to LOH as well as some rookies gunning for the champ. Two returning superstars are The Rocketeer Kate Welch and Texas' own Mikey Neumann, both of whom are veterans of past Rumbles. The third returning superstar we've uncovered is none other than Trin Garritano. That's right! The Trin Train is headed straight for San Antonio. And she ain't coming alone.
Debuting in LOH at Southern Slam will be none other than Trin's tag team partner, Jenn Bane! Together, they may be unstoppable, but what happens if they are forced to face off in the tournament's brackets? The second newcomer to LOH Wrestling that we know of so far is none other than cartoonist, Kris Straub! Whether or not chainsaws are allowed in the Falcon Theatre is yet to be determined.
So, that's five of the eight. Who are the other three? We'll find out in just a few days when Southern Slam streams live from San Antonio on twitch.tv/pax2!

Southern Slam is Real. It's Damn Real!
December 1, 2015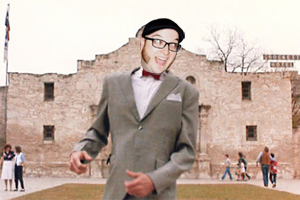 It was a joke. It was a rumor. And after the debacle in Seattle, it was an apparent impossibility. In what can best be described as a colossal lack of judgment and foresight, the organizers of PAX South 2016 are allowing LOH Wrestling to continue to operate within the confines of the America's largest video game convention. Participants and details of the event are currently unknown. Well, all details except for one. LOH promoter and play-by-play man, Aaron Trites, has banned all fog machines from coming within 1000ft of the arena.
Southern Slam 2016 will emanate live from San Antonio, Texas on January 30th in front of a capacity crowd. As details emerge, you can find the latest news right here at PAXAMANIA.com.
Rumors of a Boiler Room match at The Alamo cannot be confirmed at this time.

Tracksuit 2K16
October 14, 2015
In an inexplicable turn of events, 2K Sports released a trailer for the upcoming WWE 2K16 video game that featured what would appear to be LOH's Dr. Tracksuit as one of the game's NXT Superstars. Understandably, the LOH Universe was buzzing with speculation on Twitter. With Run GFB dead, had the "Prescriber of Pain" found a new home in WWE? He's not exactly…PG, though. Well, Tracksuit's advocate, Jeff Gerstmann, set the record straight. Within hours, the video was taken down, edited, and reposted without the likeness of the doctor anywhere to be found.
For those claiming collusion, as we are wont to do in LOH, it would appear there is no current affiliation between Dr. Tracksuit and 2K, WWE, nor NXT. Dr. Tracksuit himself was not available for comment as he is likely somewhere in international waters and Cricket phones don't work out there.

And Newwwwwwww LOH Champion…
September 1, 2015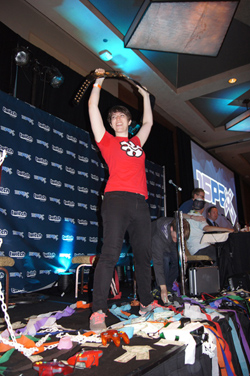 After a fire in the arena, a failed start to the Rumble, an interruption from WWE's Xavier Woods, a swirly, a rampaging Aussie, and the implosion Run GFB… Samantha Kalman is our new LOH Champion! Samantha and the Indie Love Coalition were successful in not only capturing the championship, but also proving that love conquers all…especially Run GFB. Dr. Tracksuit was cured, The Wolf was defeated, The UnderDraker was fed up and quit, and D-Leazy was fired by Commissioner Greggy.
PAXAMANIA.com was live in the arena and has the full breakdown of what happened at the show as well as all the statistics involved with the Rumble itself. If you watched the live stream, you missed a ton of the action that the people saw live in person. Better video will be made available later, but in the mean time you can read this Rumble report.
And, to show you what you missed on the stream, here's a gallery of 200+ photos taken from the front row of the 3rd Annual* Rumble!

Cuttin' Promos

Confirmed for Chaos
PAXAMANIA.com is proud to announce the first EIGHTEEN confirmed entrants to this year's #PAXRUMBLE! Some we assumed would be in there. Some are making long-awaited returns. Some announced their intentions already. And some are complete surprises. For example, Game Informer's Tim Turi is set to make his LOH debut. The LOH Universe should keep an eye on this Hugo-hating, Resident Evil Zero loving, peanut butter eating Superstar. He spent five long years as Dirty Dan Ryckert's tag team partner in the Minnesota territory. Is Tim coming to Seattle to back up his old partner? Or is he fed up with Ryckert's hype and determined to make a name for himself as a solo star? We shall find out this weekend.
And what about the long awaited return of Dan Teasdale? John Drake's sworn enemy and bane of his very existence has not been seen since the first Rumble. Now that Drake has become the vile Underdraker, is Dan returning after a year and a half to put RUN GFB's deadman down for good? Don't forget. It was Teasdale who eliminated Drake from that first Rumble.
Here is the full list of confirmed Superstars. Who will fill the other twelve slots? You'll have to tune in Sunday to find out!
"The Notorious D.O.D." Danny O'Dwyer
Khalil White
Tim Turi

Rumors Becoming Reality
With just twelve days left until the 3rd Annual* #PAXRUMBLE, we're starting to get confirmations on who will be entering the ring at the Grand Hyatt on August 30th. First up, we have Gamespot's Danny O'Dwyer officially declaring his intentions on taking over the Rumble and claiming the LOH Championship for Ireland. "The Notorious D.O.D." claims The Authority did not allow him to compete at #PAXAMANIA, which led to "The Dog Walker" taking his place in the Gang Beasts Invitational. Now, O'Dwyer has his travel expenses approved and is gunning for Alex Rubens, who won that match in Boston by eliminating Kish.
Secondly, we have the Rocketeer herself, Kate Welch announcing her return to the virtual squared circle in her hometown of Seattle, WA. Kate's hatred for Alex Navarro knows no bounds, but she is going to have to win the whole Rumble in order to get a shot at him? Can she do it? Well, she did last over nine minutes in the Rumble last year, which was one of the best displays of endurance in the event.
Thirdly, we have a newcomer to LOH Wrestling. Khalil White, until just recently, was one of the people responsible for organizing PAX. It is unclear whether or not his decision to enter the #PAXRUMBLE has anything to do with him no longer having that job, but Mr. White is in it to win it. One thing worth pointing out is that Khalil unapologetically loves Waluigi. Could this be a sign of an alliance with Dirty Dan Ryckert? Two people liking Waluigi can't be coincidence, right?

Who's Next?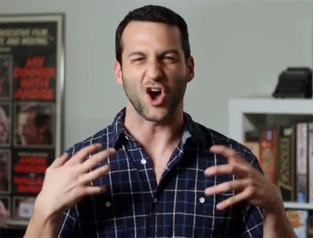 With just two weeks left until the 3rd #PAXRUMBLE, rumors are swirling about who will (or won't) show up in the 30-person, over-the-top-rope battle royal. The official PAX Prime 2015 schedule has been released, but other than Aaron Trites & Eric Pope, no one knows who is actually going to show up for sure. So, after some digging, we here at PAXAMANIA.com have devised a list. Two lists actually. On the left, we have a list of Superstars who have previously been involved in LOH events who are confirmed to be in the Seattle area that weekend. Will they return to the virtual squared circle? We don't know. On the right is a wishlist of people who will also be in town that the PAX Wrestling Universe would love to see make their debut.

Be Up Bright and Early for the #PAXRUMBLE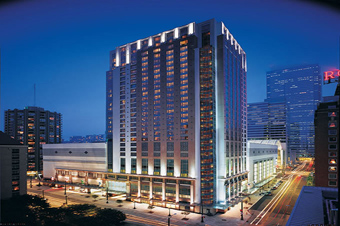 We're almost two weeks away from PAX Prime 2015 and now we finally know the official time and place for The 3rd Annual* #PAXRUMBLE. LOH Wrestling is proud to announce their return to the Grand Hyatt. That's right. Despite the fact that the carpet had to be replaced due to the glass shrapnel and countless Skittles, the superstars of LOH have not (yet) been banned from the prestigious hotel in downtown Seattle. And, continuing the tradition of inexplicably holding the event at the crack of dawn, the 2015 PAX Rumble will kick off at 10:00 AM on Sunday, August 30th live from the Hydra Theatre.
Now that we have an official time and place, Jeff Gerstmann must be scrambling to make sure he can wrangle his client, Dr. Tracksuit, into being there on time. The struggle is real.

This Rumble Is Gonna Be Gruesome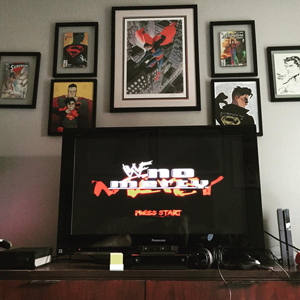 It's August, which means we've officially entered the month of the #PAXRUMBLE! We here at LeagueOfHeels.com fully expect the rumor mill to be spinning faster than a Cesaro giant swing. One such rumor is that, after having his PAXAMANIA plans utterly obliterated by RUN GFB, it would appear as though the Commissioner himself will be taking matters into his own hands by once again entering the Rumble. LOH fans will remember that Gruesome Greggy controversially won last year's PAX Prime Rumble. Is it possible for the Kinda Funny star to be the first ever repeat Rumble winner? How many chicken wings would a man have to eat to complete such a monumental feat? Well, based on this Twitter post, it is clear that the Vita-loving commish is already training hard for a return to the ring later this month.
When questioned about his intentions, Mr. Miller offered no comment. Obviously he would be still upset with RUN GFB, especially Dr. Tracksuit after getting blasted in the face with a guitar last March. But, is it wise to provoke "The Prescriber of Pain?"

Indie Love Coalition Official Merch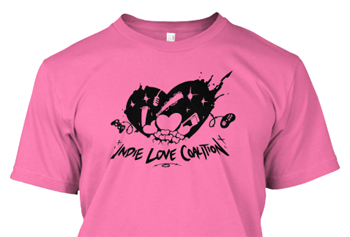 The Indie Love Coalition is gearing up for the #PAXRUMBLE…literally. No wrestling stable is complete without their own official t-shirt. Now, thanks to friend of the site Aurahack, you too can be part of the ILC. So, if you're headed to PAX and order swiftly, you should be able to have yours ready in time to show your love for indie games and help squash RUN GFB from within the capacity crowd. And, if you can't make it to Seattle, grab one anyway and show your support from afar. Samantha "Um Jammer Sammy" Kalman, Alexa Ray Corriea, Trin Garritano, Rich "57%" Gallup, and the rest of the Indie Love Coalition need your help!
So, for the low price of $15 USD, you can have your very own Indie Love Coalition shirt in one of four colors. Or, for $30 USD, you could grab a hot pink or gray hoodie. Check 'em out now!
Our sources are reporting that D-Leazy is "hashtag fuming" right now over this news. How will RUN GFB respond? We shall see in a month's time.

New Challenger Approaching?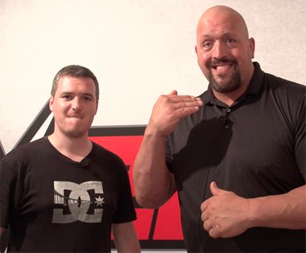 As we speed down the road to the PAX Rumble, rumors are swirling out of control in regards to who might make a surprise debut in LOH Wrestling. One such rumored new superstar is Gamespot's own Danny O'Dwyer. Recently, on Twitter, he pontificated on what kind of persona he would adopt if he were to ever become a professional wrestler. Then, he facetiously stated that would never happen. When questioned further, the face of The Point simply responded with a picture of a winking Obama.
It would seem that an Irish invasion of PAXW is imminent. But, who is O'Dwyer targeting? And who might he be allied with?

WWE's Xavier Woods at #PAXRUMBLE?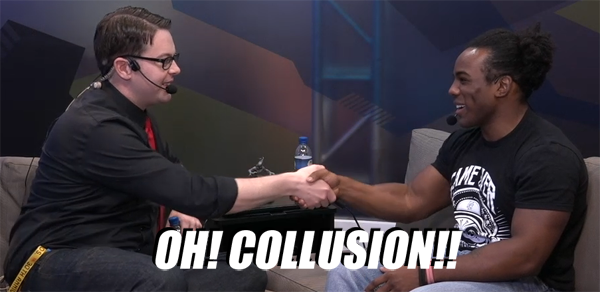 Following a long, heated dispute over who was the best Mario Kart player, it has come to this. On June 18, live on the Kinda Funny stage at the 2015 Electronic Entertainment Expo in Los Angeles, Xavier Woods issued a challenge to one Dirty Dan Ryckert. The former WWE & TNA Tag Team Champion wants to settle the quarrel in a match at PAX Rumble 2015. LOH Commissioner Gruesome Greggy was on hand to officially book the match and added a bonus incentive for the WWE Superstar to destroy everyone, including Run GFB.
Will Dirty Dan accept the match? Stay tuned to PAXAMANIA.com for all your inside LOH news!

Copyright © 1997 - 2016 League of Heels Inc.
All rights reserved.