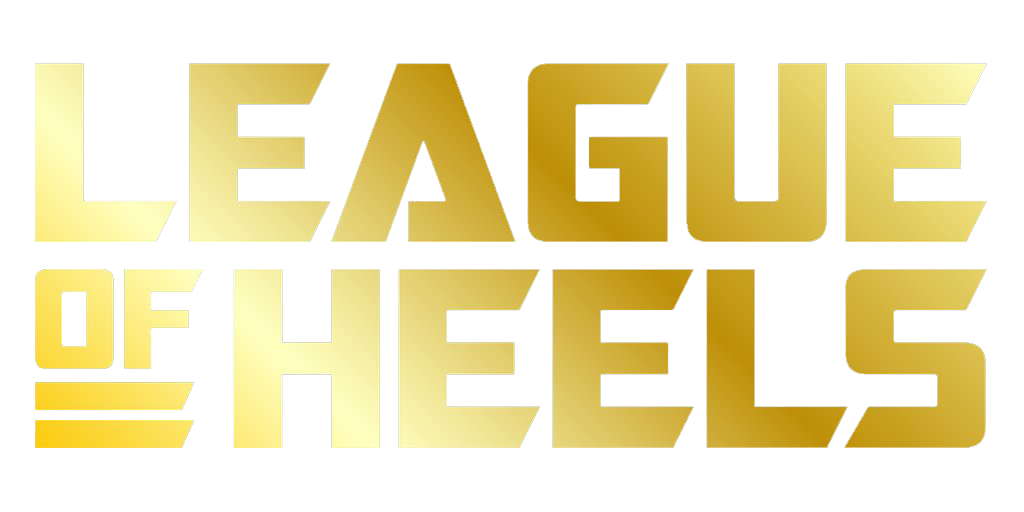 Something Wrestling This Way Comes

February 8, 2018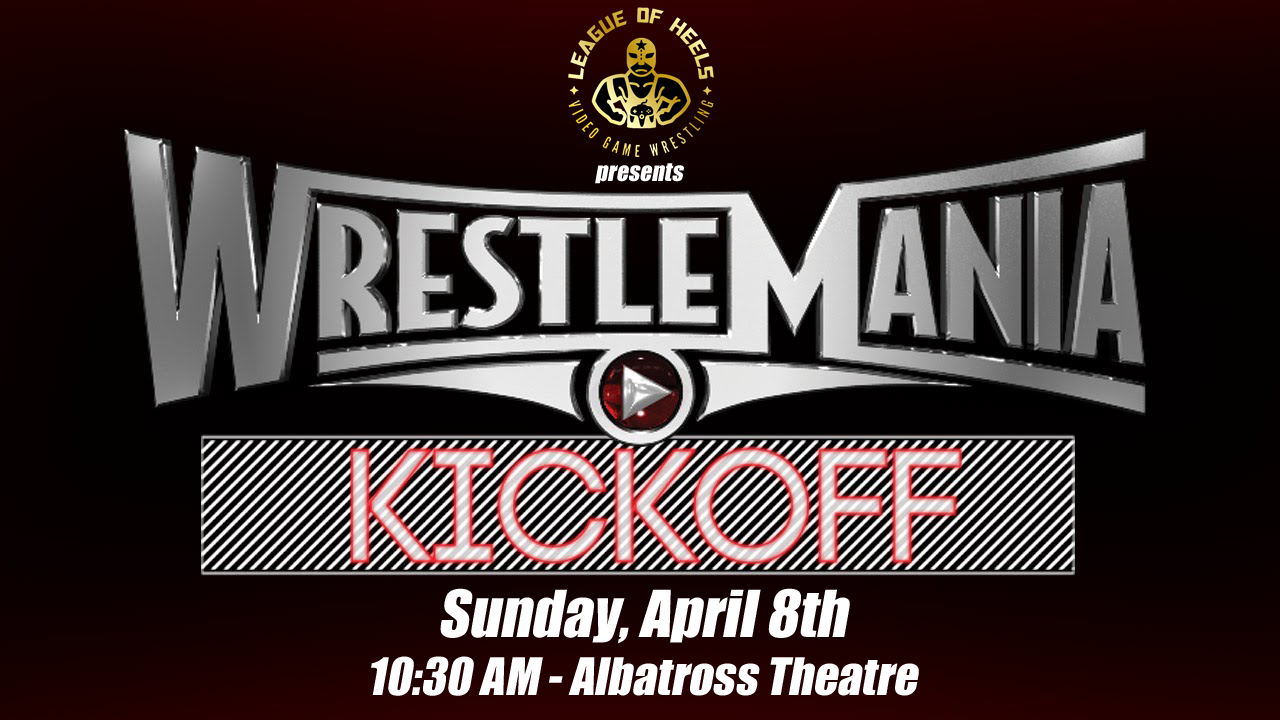 The situation at League of Heels HQ is quite dire these days. Eric Pope was somehow able to get a tweet sent out today announcing that there will in fact be a PAXAMANIA IV despite several months worth of wedgies, purple nurples, and well...murder. The tweet is less of an announcement and more of a cry for help. Pope is requesting any "true heroes" of video game wrestling make their way to Boston on April 8th at 10:30 AM in the Albatross Theatre to help restore order to the league. I for one was not aware there were any "true heroes" who associate with us, but maybe someone new will rise up. Who can say?

All Caught Up...Almost
January 3, 2018
It's been a while since we've had some updates, but we just wanted to let everyone know that we've recently updated every superstar page for anyone who participated at PAX RUMBLE V. That includes over a dozen brand new superstar pages! Now that all of that's up to date, we can start trying to breakdown what the hell happened in Australia. What if we just pretended it never happened? Nah...we'll figure it out.

"Get Your Shit Together, Australia!"
October 29, 2017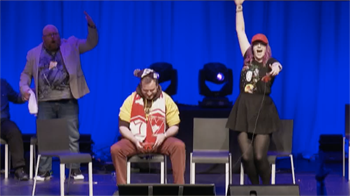 Despite a heavily modified cartridge, a dreaded hard lock, invading indie wrestlers, a dramatic banning from the league, and some dubious math, the first-ever Great Australian Bash is in the books. We'll have a full breakdown of the stats a soon as someone can decipher everything that happened, but the important information is that Kate "Justina Trudeau" Stark was the winner. In addition to becoming the first-ever "Some Manner of Australian Champion Person," Kate also became the first person to ever compete in three different League of Heels shows in a calendar year!

A Bash of Australian Persuasion
October 6, 2017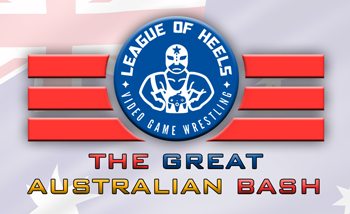 At PAX RUMBLE V, it was announced that League of Heels would be making the journey to PAX Australia for the first time ever this year. On Sunday October 29th at the slightly-later-than-usual time of 1:00 PM, the fifth annual PAX Australia will likely become the last PAX Australia thanks to The Great Australian Bash! After several hours of calculations, we've determined that means the show will start at 10:00 PM Eastern on Saturday night. Superstars currently booked to appear in the Main Theatre include the dastardly Aaron Trites, Justine Colla, Kate Stark, "Mr. Kayfabe" Kris Straub, "The Dogwalker" Mary Kish, Detective Benjamin Princess, and Teddy Dief.
We'll have more in the coming weeks!

Rumble Recap
September 10, 2017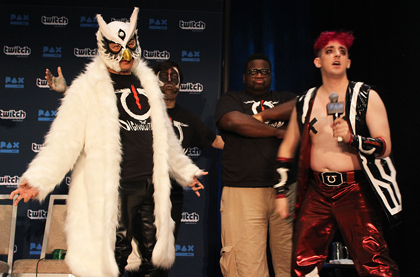 Kenny Omega debuts. A god arrives with hunks. Hot dogs rain down. A detective loses his pants. Patrick gets woke. A prime minister enters. A rivalry escalates. A rapper dominates. A shark causes confusion. An owl hoots. A new Dan acts like old Dan. A fire department absolves. A doctor feasts. A mystery unfolds. A champion is…murdered.
These are just a few of the things that happened during PAX RUMBLE V last weekend in Seattle. If you watched the stream, you missed a good bit of the action. LeagueOfHeels.com now has a full, written report of everything that went down if you need to catch up. And don't forget that we have over 200 photos from the front row plus even more from behind the scenes and after the show. With these powers combined, you're gonna be mostly covered until we get the official, professionally edited video from Eric and Chelsea.
As you can see, we've also updated the nav bar with Australia and Unplugged. We aren't quite ready to announce the actual names of these events, but we will soon. PAX Australia happens October 27-29 while PAX Unplugged will be November 17-19. It's a long road to PAXAMANIA IV, but we've got two more shows before we get there. Stay tuned!

PAX RUMBLE V Photo Album
September 8, 2017
If you watched PAX RUMBLE V on Twitch, you missed a lot of what happened during the show. The action was faster and more chaotic than any Rumble we've ever seen before. Well, we have over 200 photos from the front row that caught all the action. It's your best option at least until our friends at ENC3000.com have time to edit the official video.
These photos include exclusive behind-the-scenes moments from before and after the event too!

200+ Photos From the Front Row!!

Behind the Scenes — After the Show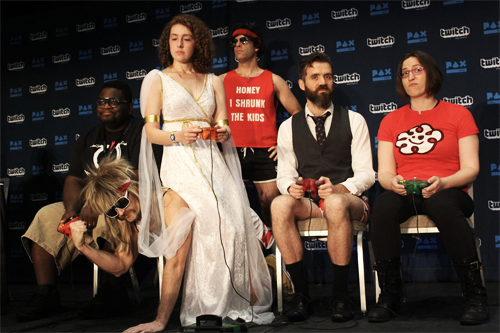 A Murder Mystery
September 7, 2017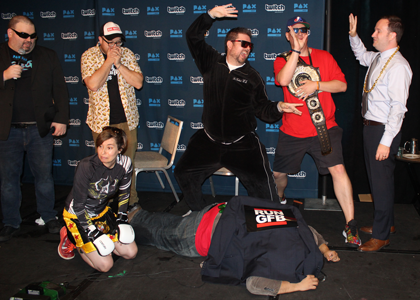 PAX RUMBLE V is now a thing of the past, and, shockingly, so has our former champion, Austin Walker.
Over the course of the event, Professa Killah was poisoned and ultimately died before he was able to defend the championship. The winner of the Rumble, Dr. Tracksuit gave his right to the title match to "The Boss" of RUN GFB, D-Leazy. Then, in the biggest twist in LOH history, it was revealed that Aaron Trites was the true culprit of the murder as well as the newest member of RUN GFB. The LOH Championship was handed over to D-Leazy while others looked on in horror.
So many other insane things happened, and a full report for the fifth Rumble will be up soon. In the mean time, we have updated the Rumble elimination data on the PAX RUMBLE V page. In the process, it has been discovered that Authentic New Yorker Dan Ryckert has captured BOTH elimination records. He took down fourteen other superstars, which beats the thirteen that Teddy Dief posted last year. With five eliminations in 2016, NY Dan Ryckert now has nineteen in his career, which is also the most ever.
More to come soon!

Do We All Get IMDb Pages Now?
July 29, 2017
The League of Heels documentary that premiered at a pre-PAX East event back in March is now available for anyone to view thanks to our friends at ENC3000, Eric Kanius and Cheslea Smith. If you want the full, inside story on League of Heels' ascension to a notch above obscurity, then this is the film for you. Get ready to learn about how a joke amongst friends became an eSports phenomenon, why Khahil White might be responsible for this whole debacle, the truth behind the fog machine, how Greg Miller plans on being in the next Fast & Furious movie, why D-Leazy just gets better with age, and maybe even some new Austin Walker nickname origins.

What The Hell Is LOH Wrestling?
| | | |
| --- | --- | --- |
| League of Heels (LOH) is widely regarded as the pinnacle in live eSports entertainment as well as being a pioneer in the fighting game community. While its origins are a mystery, the promotion came into prominence under the leadership of Aaron Trites who inherited this duty from his Pap Pap. Under Aaron's guidance, LOH emerged from an abandoned bingo hall in Medford to what it is today. Dozens upon dozens of game industry professionals (and a handful of other nefarious individuals) travel the globe selling out conference centers and hotel ballrooms all in the name of video game wrestling supremacy. In recent years, it's been a whirlwind of Skittles, Diet Coke, and shattered glass that has led the superstars of LOH to where they are now. | | |


Copyright © 1997 - 2017 League of Heels Inc.
All rights reserved.