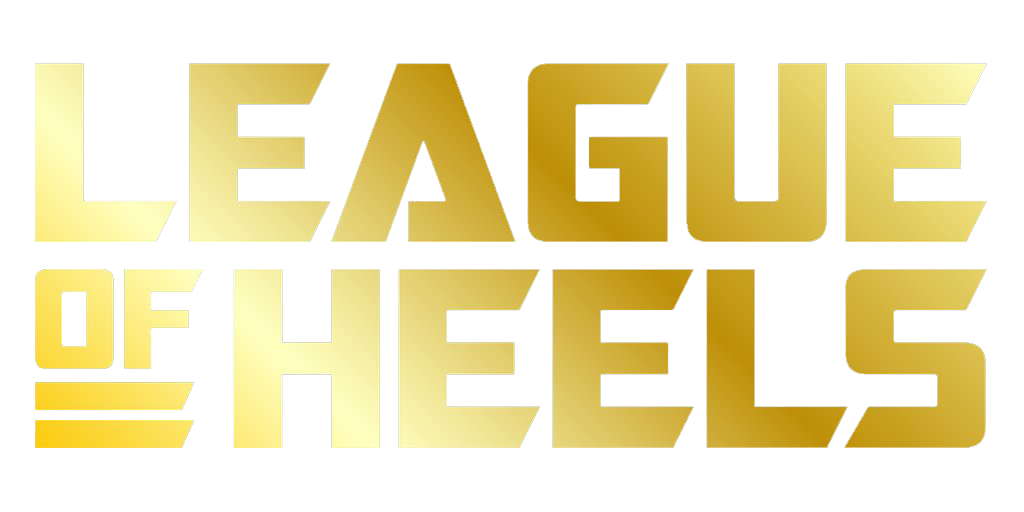 LEAZYMANIA Recap

April 14, 2018
It's hard to believe, but PAXAMANIA IV (aka LEAZYMANIA) was almost a week ago now. If you missed the whole thing or just missed the stuff that the Twitch stream didn't show, we now have a full breakdown of everything that happened on the PAXAMANIA IV page. We all have a lot of questions in the aftermath. Now that Pat & Pope are in control of the league, what will they have in store for the LOH Universe at PAX West 2018? What's this new format they alluded to at the end of the show? Since D-Leazy is still the champ, who will step up to challenge him in Seattle? How long will Aaron be imprisoned in the boiler room of the Boston Convention & Exhibition Center? Will Pat officially book Samit for the next show?
Luckily, we have just a few short months before we'll have these answers, so stay tuned!

We We We Are In Control

April 11, 2018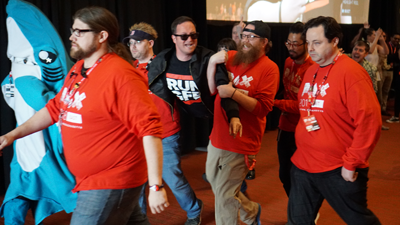 PAXAMANIA IV is officially history and...SURPRISE...things did not go according to plan. Teddy Dief no-showed (again), The Wolf still lost their Loser Leaves Town match somehow, and we got a new crop of rookie superstars. But, the biggest story coming out of the fourth PAXAMANIA was the complete and utter corruption from RUN GFB. Aaron Trites has been arrested for the murder of Austin Walker, but D-Leazy remains our champion. We'll have a full breakdown on the site soon along with some new superstar pages after that.
In the mean time, we've got over 200 photographs from the frontlines of the arena as well as backstage. You definitely missed some details on the Twitch stream, so until Eric & Chelsea's official video is ready, these photos will help fill in the blanks.
200+ Photos from the Front Row!!

** D-Leazy ** Wrestling Superstar
April 2, 2018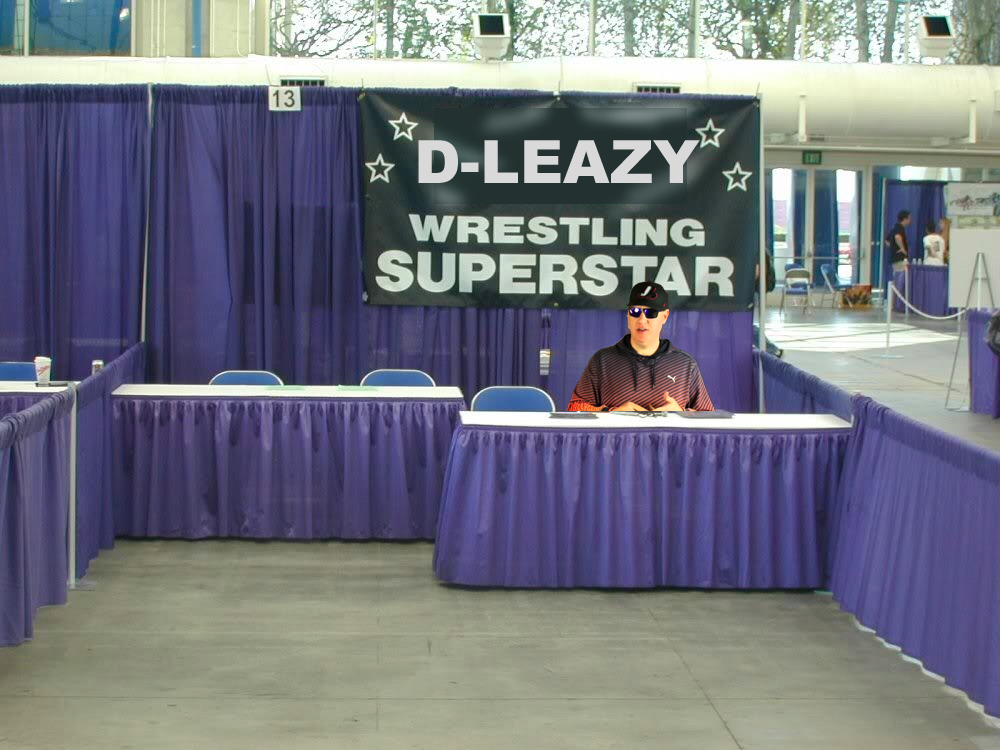 PAXAMANIA IV is less than a week away! You've heard from The Baer Caev that there will be autograph signings at the merch booth, but when exactly is that going to happen? Well, we've got the scoop right here. So, check a look, make some plans, and bring the weirdest thing you can think of for the LOH Champion to sign.

We Got a Real Gimmick Table
March 22, 2018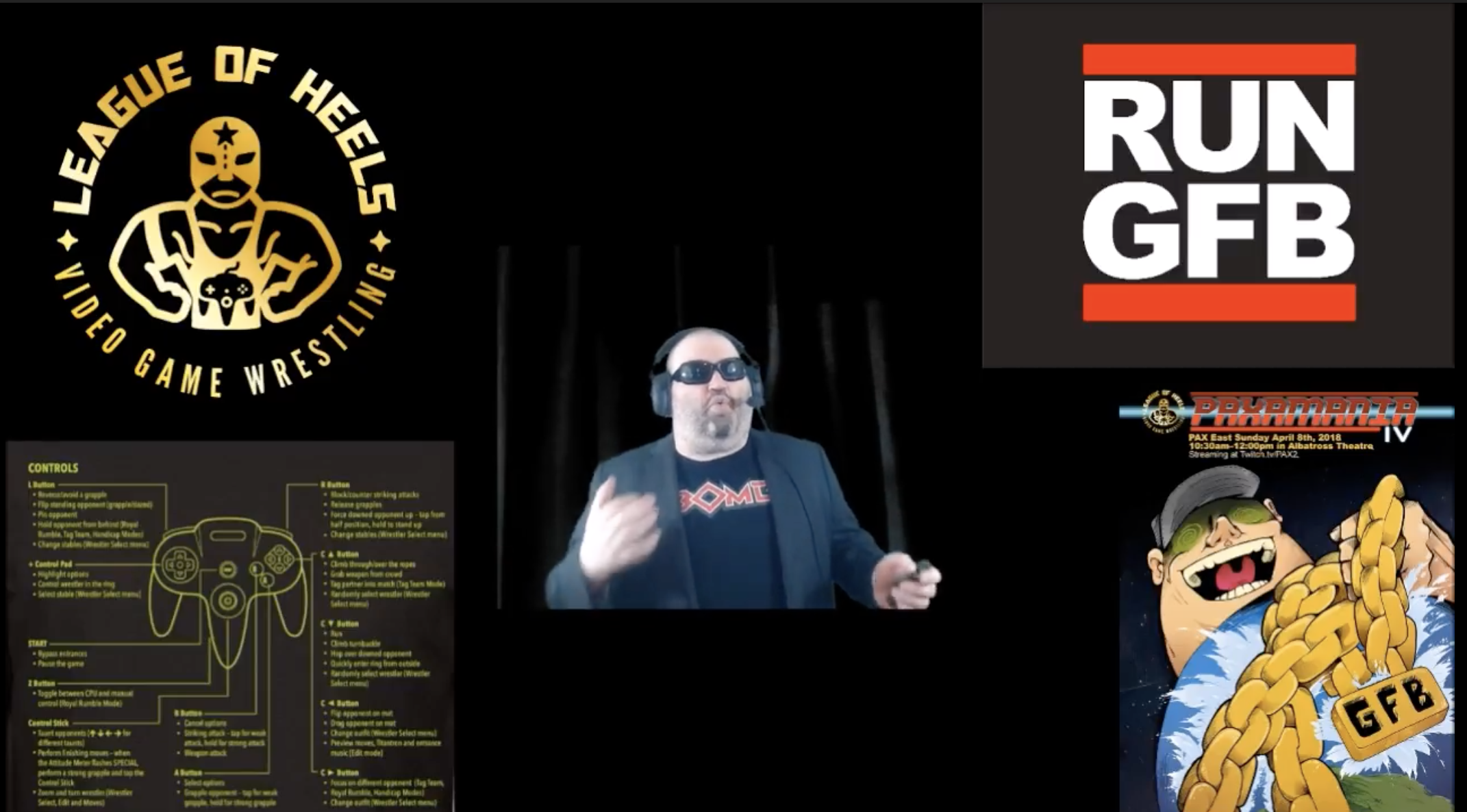 Against better judgment, PAX organizers continue to provide League of Heels with more and more avenues to promote what is the pinnacle in eSports Entertainment. This year, LOH will have an official merch table set up in Band Land, which is located in the front lobby of the Boston Convention & Exhibition Center. For all four days of the show, Aaron Trites and/or Pat Baer will be manning the table selling three different shirts and the official event poster (designed by Humanity!
But that's not all! On Friday and Saturday from noon until 6 PM, you can meet some of your favorite (or least favorite) LOH Superstars who will sign your stuff for free. Superstars confirmed to appears are:

What The Hell Is LOH Wrestling?
| | | |
| --- | --- | --- |
| League of Heels (LOH) is widely regarded as the pinnacle in live eSports entertainment as well as being a pioneer in the fighting game community. While its origins are a mystery, the promotion came into prominence under the leadership of Aaron Trites who inherited this duty from his Pap Pap. Under Aaron's guidance, LOH emerged from an abandoned bingo hall in Medford to what it is today. Dozens upon dozens of game industry professionals (and a handful of other nefarious individuals) travel the globe selling out conference centers and hotel ballrooms all in the name of video game wrestling supremacy. In recent years, it's been a whirlwind of Skittles, Diet Coke, and shattered glass that has led the superstars of LOH to where they are now. | | |


Copyright © 1997 - 2018 League of Heels Inc.
All rights reserved.