LOH Facts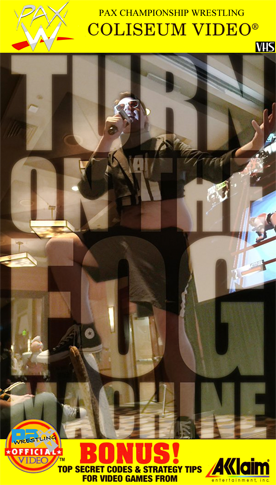 Commissioner Greggy politely asked to "TURN ON THE FOG MACHINE" no less than 12 times during the 2015 Rumble.
Only five Superstars have competed in all three Rumbles. That's Samantha Kalman, Dr. Tracksuit, D-Leazy, John Drake, and Felix Kramer.
Cyberdwarf and Jon Brown both eliminated themselves in 2015, making them the 2nd and 3rd superstars to ever manage to do that.
Cyberdwarf entered the third Rumble after his manager, The Wizard, mistakenly thought it was a basketball tournament.
Patrick Klepek was the first superstar to ever score a double elimination in a Rumble when he knocked both Kate Welch and Sean Baptiste off the apron.
Vlambeer's Rami Ismail is the only superstar to ever get randomly checked for foreign objects.
John Drake holds the career record for most time spent in Rumbles (33:54), but he has entered five times in three events. Samantha Kalman holds the "true" record at 27:15.
Dirty Dan Ryckert blames his poor Rumble '14 performance on this man.
"The UnderDraker" John Drake has played AS The Undertaker and been eliminated BY The Undertaker (Felix Kramer).
IGN's Mitch Dyer was the first superstar ever eliminated by knockout. He shamed the Hart family.
Tim Schafer stole John Drake's shoes after being eliminated in 2014.
Many LOH Superstars have been "glassed," but Dr. Tracksuit is the one to ever glass himself.
After three 30-person Rumbles in WWF No Mercy, no one has ever competed as Mankind, Shane McMahon, The Godfather, Matt Hardy, or Chaz.
Retro gaming expert Chris Kohler doesn't consider the N64 a classic console.
No one has ever won a Rumble from the #1 spot.
Cards Against Humanity's Trin Garritano predials 9-1-1 whenever Dr. Tracksuit enters the arena.
You wouldn't believe how sweaty Will Smith gets.
John Drake is so full of Diet Coke caffeine that he can never truly be defeated.
Despite all the hype, Dirty Dan Ryckert has only ever eliminated one superstar from a Rumble.
The mask worn by Swery is that of legendary luchador Huracán Ramírez.
Microsoft's Eric Neustadter secured a sponsorship with Nike prior to PAX Prime 2014.
The power of "Too Sweet" positivity was enough for Mega64's Eric Baudour to eliminate Dan Ryckert in 2014.
Andrea Rene has been eliminated by Dr. Tracksuit both times she's entered the Rumble.
The secret behind Dirty Dan Ryckert's infinite amount of confidence is his fanny pack.
Twitch's Jon Carnage was eliminated 7 seconds into the inaugural Rumble.
Epic Games' Nick Chester holds the record for most times mooning people during a match.
Valve's Brad Muir is usually all :D, but he once shouted "FUCK YOU!" across the rooftop of Seattle's Hard Rock Cafe when he spotted a RUN GFB fan.
Both times that Trin Garritano has been eliminated from a Rumble, Eric Pope incorrectly told her who did the deed.
Former LOH Champion Alex Navarro holds the Rumble endurance record by surviving 15:08 at PAX East 2014.
The guitar that Dr. Tracksuit smashed over Commissioner Greggy's head was provided by Alex Panait.
Fans attempting to approach David Ellis will be banned from Halo 5 multiplayer.
Alex Navarro tossed a record 12 superstars out of the ring at the inaugural Rumble. This is also the most eliminations by anyone in a career.
Chris Kohler was the first superstar to ever eliminate himself from a Rumble.
D-Leazy was never eliminated from either of the first two Rumbles.

Copyright © 1997 - 2016 League of Heels Inc.
All rights reserved.